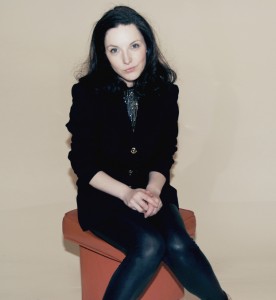 About Russian make up artist Valentina Andre-Eva:
Valentina Andre-Eva is a artist. Studied in Moscow State University of Technology and Design, London College of Fashion and in a well-known in Moscow Academy of Cosmetology and Visage. She started her career as a make-up artist working with fashion magazines, celebrities, at fashion shows and on music videos. In 2010 worked on a Hollywood movie called "The darkest hour". In March 2011 had her second photo exhibition and organized her own make-up course.
Q. My Fashion Villa: How did you first get interested in becoming a make-up artist?
Valentina Andre-Eva: I studied make-up in Academy of Cosmetology and Visage in Moscow after what I passed exams and got my Diploma in Fashion, Theatre and
make-up (ITEC). But my story with make-up began long time before that in London in 2005 when I was studying in London College of Fashion and one day worked on my friend's project helping with scars and burns. After this project I was doing experiments with make-up trying new shapes, colors and effects. I was so impressed that even in a year I couldn't forget this feeling. So, I changed fashion design industry to a make-up field and started doing make-up to my friends who were partying a lot.
Four years ago I had a phone call. That was some fashion designer's assistant who asked me to work on a fashion show as a MUA. I wasn't sure if I was able to do make-up for fifteen models in a such a short time plus I didn't have that much experience but I agreed. So, since that "try" four years past and still I do make-up.
Q. My Fashion Villa: Is make up artistry is really interesting?
Valentina Andre-Eva: My job is very interesting: I love to get positive feedbacks, see new places, meet new people and, to be honest,  I feel like I'm having a competition with myself, every day I try to create something new and much better than some previous of my works, using all my skills and knowledge.
Q. My Fashion Villa: Do you think one should have a strong sense of creativity for becoming a fashion make-up artist?
Valentina Andre-Eva: Personally I think that to become a fashion make-up artist you have to be quite creative, to  do trendy fashion make-up for catwalks and fashion photo shoots. For example, I can't imagine if MUA from Galliano's fashion show wasn't creative, because a lot of people who are interested in fashion or make-up always wait for their new impressive looks and ideas. And the one who brings it to people should be a very talented artist.
Q. My Fashion Villa: Would you like to give any make-up tips to the readers?
Valentina Andre-Eva: And to the readers I can suggest to lead a healthy lifestyle then their skin and body will thank them. Remember, you are as pretty as healthy.