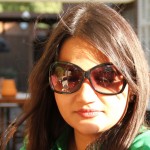 Indian Fashion Designer Natasha Sehgal has studied Fashion design from Parsons School of Design, New York and was trained under fashion designer Anna Sui and DKNY. After returning to India, she launched her label Nat Non.  Her label has been successfully catering to high end boutiques world over in the United Kingdom states of America, Canada and Singapore.They have launched their contemporary Indian wear for the international and domestic market.
Q. Can you give us some hints about the inspiration behind your collection?
Ans: My latest collection is" kiyomi" which means Pure beauty. I draw my inspirations from nature and history the best. Being Indian Fashion Designer my designs are all combined with vintage pieces and mood to add a feminine charm to all our designs. Typically they include delicate embroideries, laces and intricate pearl patterns. I believe the garment should reflect women's originality, inner personality and sensuality once draped on her.
Q. What do you most enjoy about a fashion design career?
Ans: The best part about fashion design is the colorful nature of the field itself. You have to be a chameleon yourself to adapt to this art. Fashion is not constant. So you have to be on your toes offering the best in line and season to your customers. It's this vibrancy that is most attractive about fashion.
Q. Did you always want to be a Fashion designer?
Ans: Yes totally. Right since I was a child. Today also I breathe fashion in every aspect I touch and try to show this passion through my garments.
Q. What was the most valuable lesson you learned as fashion designer ?
Ans: It is no doubt a very challenging field and there are several stepping stones you have to cross before you actually strike a chord with your clientele and make your mark. But definitely persistence and consistency always pay.
Q. What do people need to know about a fashion design career?
Ans: If you are starting out on your own it can be very hard in the beginning even to get your foot in as an intern with any big brand, due to the competitive nature of our industry. Once you develop your own signature style that your customers and the market identify you with, your label will pick up really well.