The first thing that we must know is, "Curvy Comes in All Sizes". This is a major misunderstanding that many people have. When we say CURVY; we are not talking about someone overweight or fat. No!! Both Pear and Hourglass figures fall under the category of Curvy Figure only, and they can be of all sizes; lean, petite or even plus size. It's just, they have clear curve defined from Burst-line to Waist to the Hips.
See below image, they are all with Curvy Figure, but of different size and weight. Makes sense?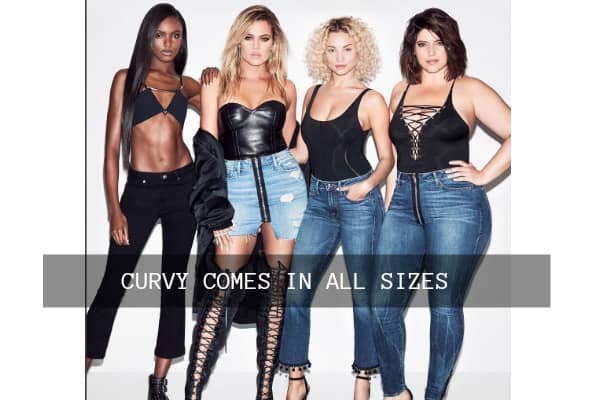 So, as I mentioned above, Two types of Body Figures fall under this category, A Pear shape Body & an Hourglass shape of body. If you are a curvy woman, like me; you can be one of this. If you ask me, I am of an hourglass Shape, the right side figure below shows hourglass shape figure. If you already know you fall under the category of curvy women, you need to identify; Are you of a Pear shape or an Hourglass shape? check below image for the same.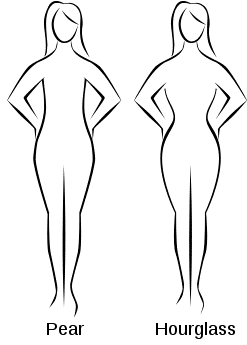 So What is the challenge?
Challenge is to balance! And if you understand the art of dressing, nothing better than having a curvy figure! In fact majority of Indian women fall under the category of Curvy Women and that is the reason why Indian body figure is considered the most ideal one.
Which type of Denim Jeans suits Curvy Figure the most?
After talking to some of my friends working as an image consultant and Stylist and what I have tried personally, I can say that the high waist Jeans which is of Lycra blend with Denim fabric works best for a curvy woman, be it a pear shape body type or an hourglass shape figure. I prefer to choose stretchable thick denim jeans, such that it fits well on my waist and hips and gives the right feel and confidence. Also, high rise jeans with defined waist belt fits better.
So… Here I am… wearing my favorite high waisted Denim Jeans in Dark Blue Shade. I paired it with a Printed, Silk Blend Crop top during my recent trip to Mt. Abu in Rajasthan. Check pictures and look details below.
Style Tips for Women with Curvy Figure
Wear a pair of Angular Oversized Earrings
Wear Wedges or Shoes with good platform heels
You can try High Rise Boot Cut denim jeans as well
When you wear High Waist Denim Jeans, Do not wear too long tops. Ideal top length would be no longer than your hips. With high rise jeans, shorter top wold look better.
OOTD: High Waist Denim Jeans and Crop Top for a Casual Day Out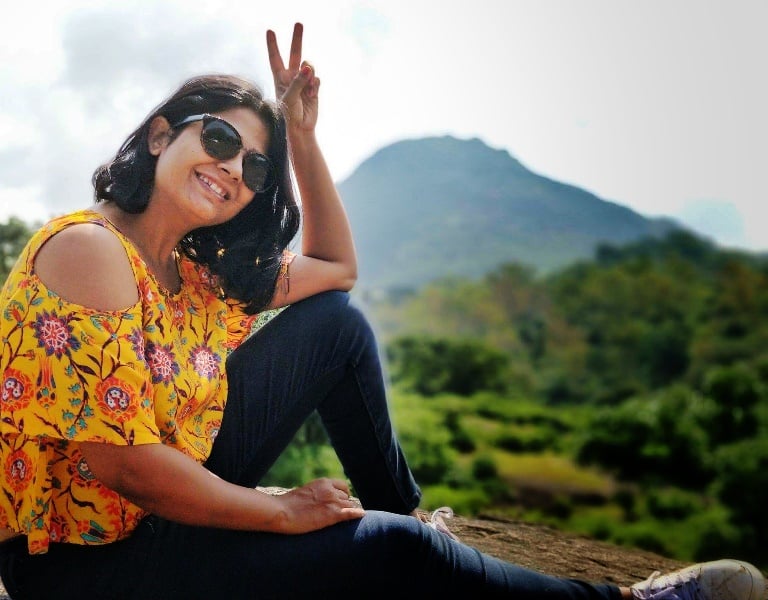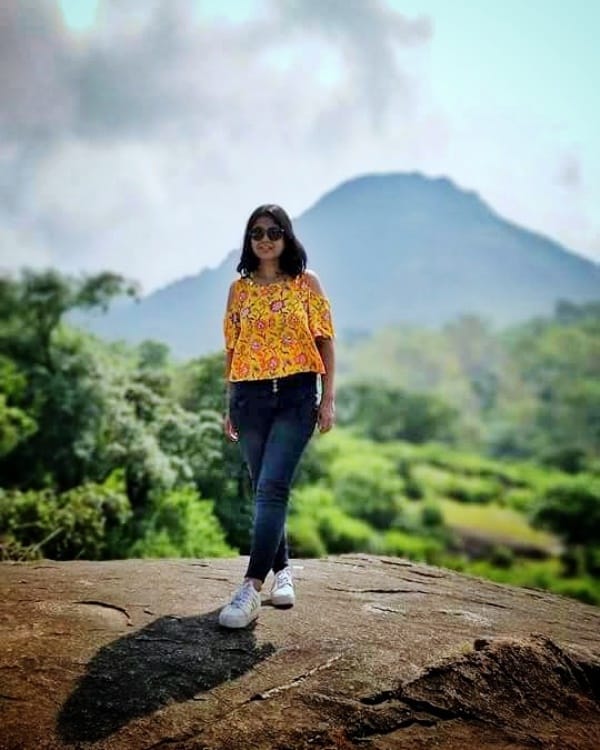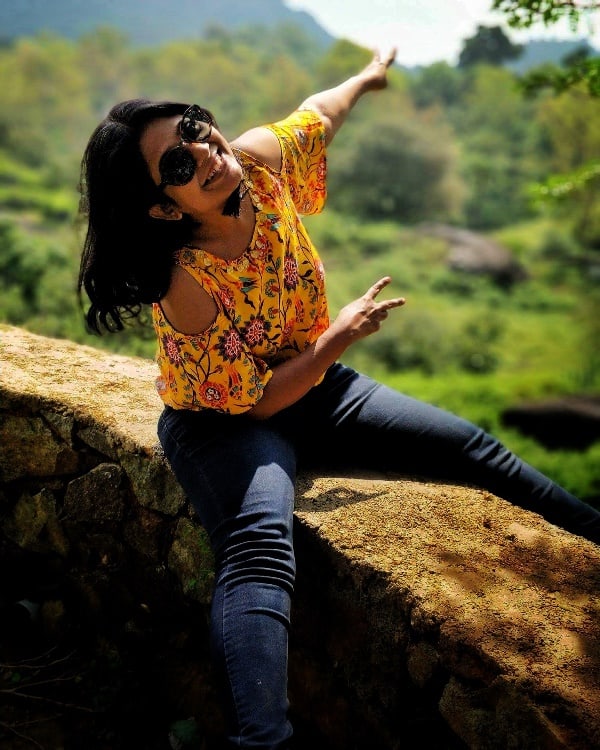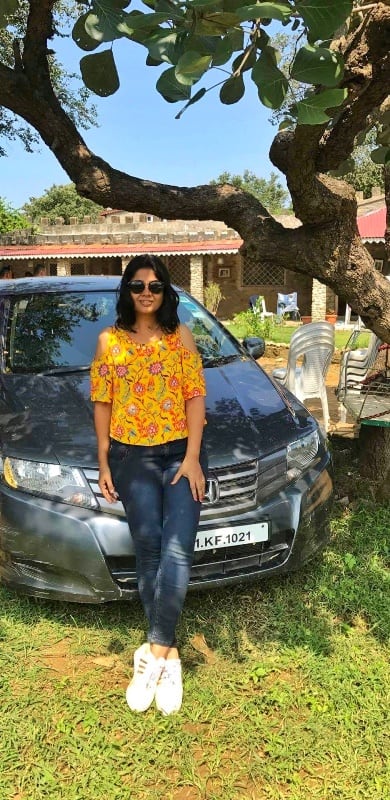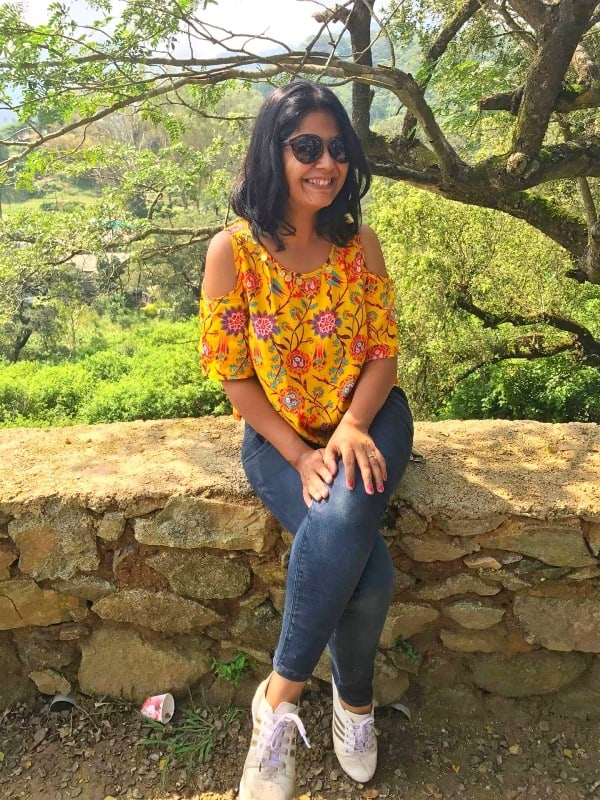 Look Details
High Waist Denim Jeans : Purchased from Annaz Ahmedabad, Priced: Rs 999
It is a high rise denim jeans, which is light weight and stretchable. It has defined waist band and button details,
Top: Global Desi, Purchased from Pantaloons, Priced Rs 699
I decided to buy this top, immediately I saw it. It has bright yellow color, quite flowy light silk blend fabric, Beautiful flower print and sleeves 🙂
Shoes: Sarojini Nagar Market, Delhi, Priced: 35o
I was looking for a pair of White Sneakers with platform heels for long time. Finally I found one and it is my goto pair of shoes these days. Super comfy and goes well with many outfits.
My Message to all of you…
If wasn't easy! I am talking about posting this picture. I absolutely love it and this version of mine feels like dream coming true! That's so.. me.. but still I took 24 hours to share this picture here and hundreds of thought thinking about all judgmental people around… but it's about expressing, not about flaunting. Finally here is me 
It took massive 4 years to be this, losing weight, gaining confidence and expressing this way and trust me I have worked on myself, constantly building me. I am still working and will continue improving lifetime considering I will always have flaws and I accept it the way I am and the way I am not. After all these years what I have understood is, We don't need to fix anything within our self, our job is to improve and making it better.
To all the women.. out there.. I just want YOU to feel Alive and beautiful within… regardless of which color, what shape, weight and how many flaws you have. It doesn't matter at all… Unless you feel happy about yourself, you can't make others happy. So.. Be free, Be yourself, Express fully and Stay playful always. That's all worked for me.. and it will work for you too. Hugs!!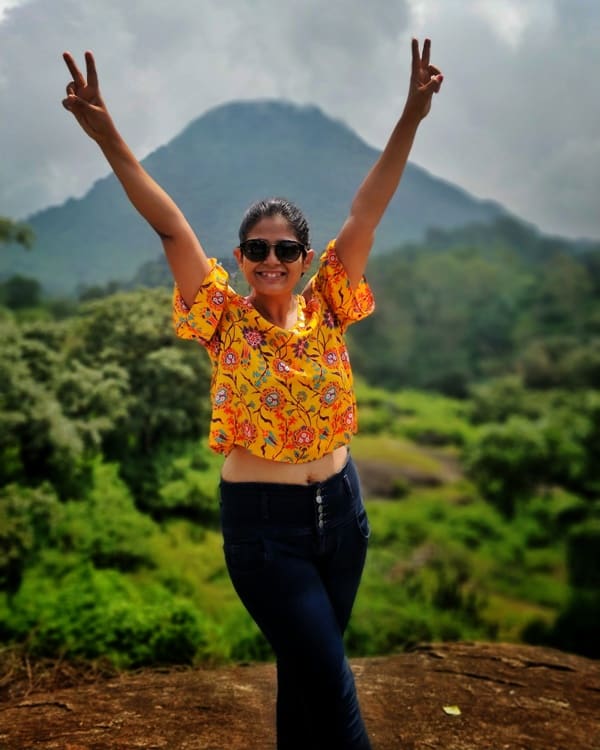 Hope you like the post!
Until Next Time..
Be Happy, Stay Stylist & Flaunt :-*