When it comes to hygiene and cleanliness, we women still avoid it too much. It is usually seen that women care for their Hair and skin more than their intimate organs and inner beauty, which should not be the case. Taking care of intimate parts with healthy hygiene routine is essential for any women. Today I am going to review one such very important product named Everteen Natural Intimate Wash Review. Read the post for more details.
About Everteen Natural Intimate Wash Review:
Everteen Natural Intimate Wash is scientifically designed to promote Body's natural vaginal balance and maintain complete vaginal hygiene. Daily use of everteen helps in preventing infection and gives relief from consistent itching or burning in vaginal area. It says, it is an Ayurvedic Product for external use only.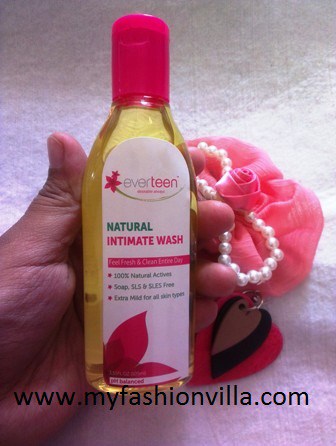 It Prevents:
• Unpleasant odour
• Itching and irritation
• Vaginal infection
Specialties of This Product:
• Natural pH Balance
• Vaginal Flora
• 100% Natural Actives
• Soap, SLS & SLES Free
• Extra Mild for all Skin Types
• Suitable for All Ages Women
It Maintains:
• Vaginal Hygiene
• Vaginal Moisture
• Everyday Freshness
Quantity: 105 ml
MRP: 180 Rs, Available in 170 Rs on Flipkart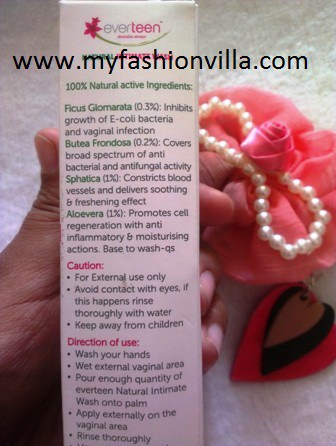 My Take on Everteen Feminine Intimate Wash:
When I was 17, my mother introduced me to intimate wash and since then I am using feminine intimate was. I was using some other brand which is not available now and so last month I started my search for Good Feminine Gentle Initiate Wash. For me Cleanliness and Hygiene comes as a top priority always as I always believe that this is something I cannot avoid being a woman. and that's why I cannot live without intimate wash. While I was searching for a Good intimate wash last month, I heard about Everteen Products and I decided to give it try.
I got Everteen Intimate wash last month and since then I am using it. It comes in a Yellow thick gel form which has pleasant mild fragrance. You just need drop of it, as it is more than sufficient to clean your intimate part. With that I think, this bottle of intimate wash will easily last for 4 months at least, which is worthy for the price 170 Rs.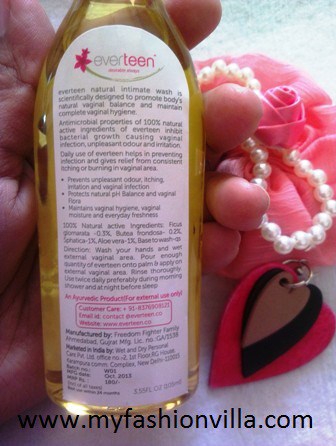 My experience with Everteen has awesome so far. I use it at the time of bath and I feel fresh for the whole day. The wash is very mild and gentle gives me soothing effect. I don't feel any itching or irritation after using it. Overall I am loving this product and will keep using it always for sure.
Do I Recommend This Product: Yes, Strongly.
Why you should use Natural Intimate Wash every day?
Using Soaps and Shower Gels to clean intimate part increases the chances of sexually transmitted infections.
If you are pregnant, using intimate wash is highly recommended as you develop infections very easily.
It is also critical to maintain healthy hygiene during menstrual period as the intimate area is particularly prone to infections during menstrual period.
Even for daily routine, this intimate wash is highly recommended.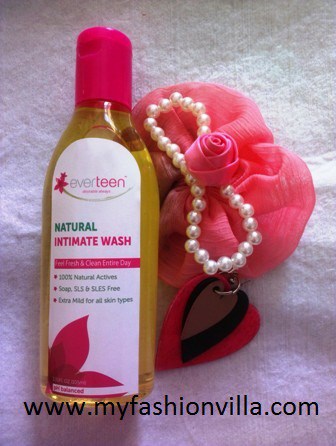 My Likes:
Very Small Quantity Required
It is Soap Free
It is a pH balance Ayurvedic Product
Very mild and soothing fragrance
As small quantity is required, 170 Rs is quite affordable for this product.
A travel Friendly packaging
It works what it claims
Dislikes:
Nothing, Truly.
Recommended? Yes definitely a must have product for all women. Shop from Flipkart.
Hope this Review will help you girls. Let me know your views on the same!
Lots of Love..
– Hetal