Weddings, Engagements, Functions, Parties or small get together women's look is incomplete without jewellery. Mainly jewellery can be classified in varied types and collection like; heavy intricate bridal jewellery, timeless vintage jewellery, delicate jewellery for office or routine wear, and what not.
Many trends come and go but jewellery is always in demand. Nowadays one of the most followed jewellery trend is bollywood jewellery trend. Be it 'Zumka earings' and south Indian style temple jewellery of Deepika Padukone in Film 'Chennai Express' , the  intricate heavy neckpiece of Aishwarya in Film 'Jodha Akbar' and the latest 'Prem Raten Dhan Payo' jewellery trend in which not only Sonam Kapoor's but even Salman Khan's jewelled look got noticed and become ongoing trend.
Even Hollywood celebs are fascinated by Indian jewellery designs, Currently in Oscars 2016 'titanic' movie fame Kate Winslette opted for one of the Indian Designer's jewellery!! Celebrities are opting for statement neckpieces, heavy intricate earrings, cocktail rings, traditional vintage jewellery which never goes out of fashion and thanks to social media today's women are aware of all the latest trends in jewellery.
PNG Jewellers
PNG Jewellers offer rare, exquisite and finest collection of jewellery. One can get enormous range of latest trendy collection at PNGJewellers . They offer heritage collection jewellery in Polki , Jadau ,exquisite designs in Diamonds, Uncut Diamonds and Traditional Maharashtrian Jewellery. Some of their special collections are; Balgandharva Jewellery Collection, Temple Jewellery Collections , Royal Jewellery Collection, Wild Gold Jewellery Collection.
And now PNG Jewellers are launching their new collection "TIMELESS by MADHURI DIXIT"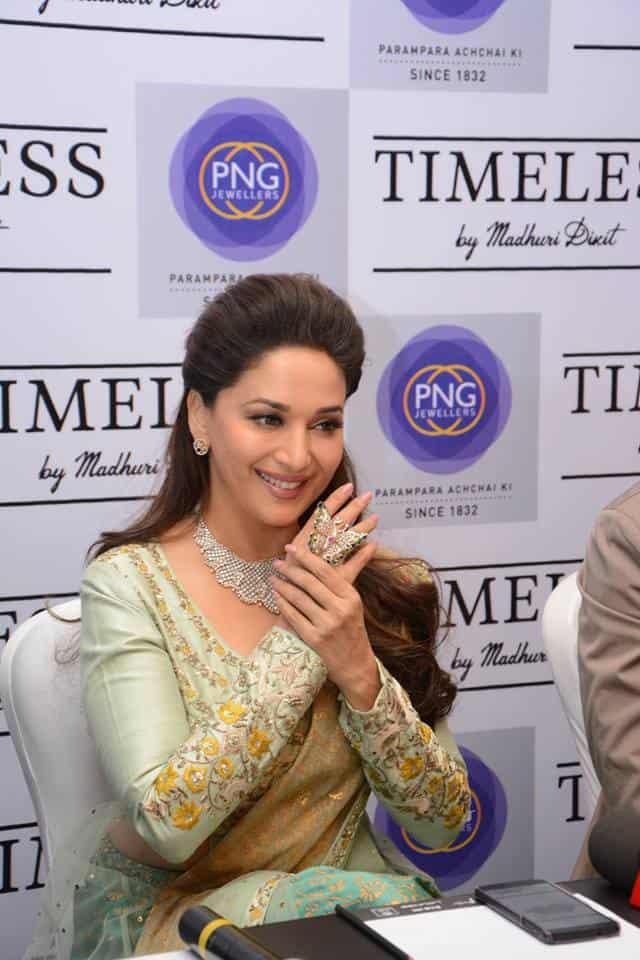 TIMELESS by MADHURI DIXIT
"Timeless by Madhuri Dixit" is launched by Famous Bollywood Actress Madhuri Dixit Nene in inauguration ceremony of PNG Boutique in Pune. The collection contains seven finest masterpieces crafted in diamonds with sheer excellence by PNGJewellers. The entire collection is made while keeping today's women in mind, She is Traditional, She is an All- rounder, She is Feminine and Elegant, She is a Diva, Her beauty is Timeless !!This collection is a tribute to women and her vivacity, aura , beauty  and power she represents.
The collection consists of intricate silver necklaces and earrings weaved with precisely cut gemstones. The name of every piece of jewellery in this collection is inspired by women's beauty and power. Like; Deity of Crown, Fairy's shining dew, Dakshyani, Ravishing Queen, Alnilam, starry floret, Dancing Bells.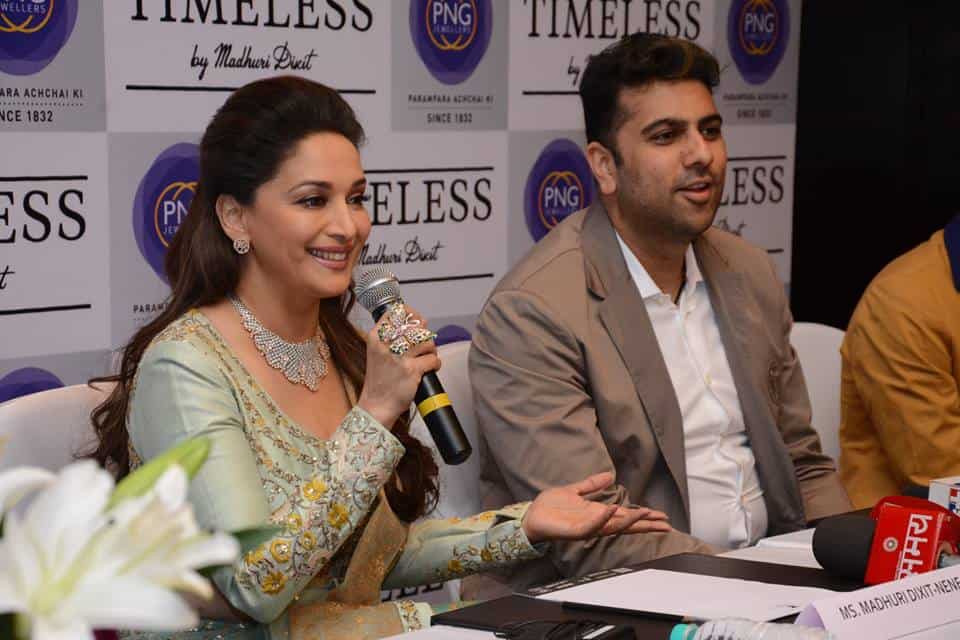 'Timeless by Madhuri Dixit' collection by PNG Jewellers celebrates women's timeless beauty, vivacious persona and enormous power.
PNG jewellers are well connected with the customers all around the world through its online store which is operated from Mumbai. PNG Jewellers have remarkable social media presence and connectivity. Check out and follow their Facebook page PNG Jewellers and Twitter Account @PNGJewellers for updated information about their latest collections.