Hi Beauties! I am back with another product review and this time, it is my favorite product. Hope you will enjoy this review. Before I tell you about the product and review, let me share a Good News From my end. I am blessed with a baby boy on 31st Jan and now enjoying one of the precious phase of life, that is motherhood. While I am enjoying days being mom, I am trying products made for mommies too 😉 and I am sure this review will be helpful for all mommies and to be moms!
So, Today I am going to review an intimate wash (Cleanser) by Bottega di Lungavita. It is called Vita Age Mamma Intimate Cleanser which is an Extremely Delicate Cleanser Enriched with the Plant Extracts!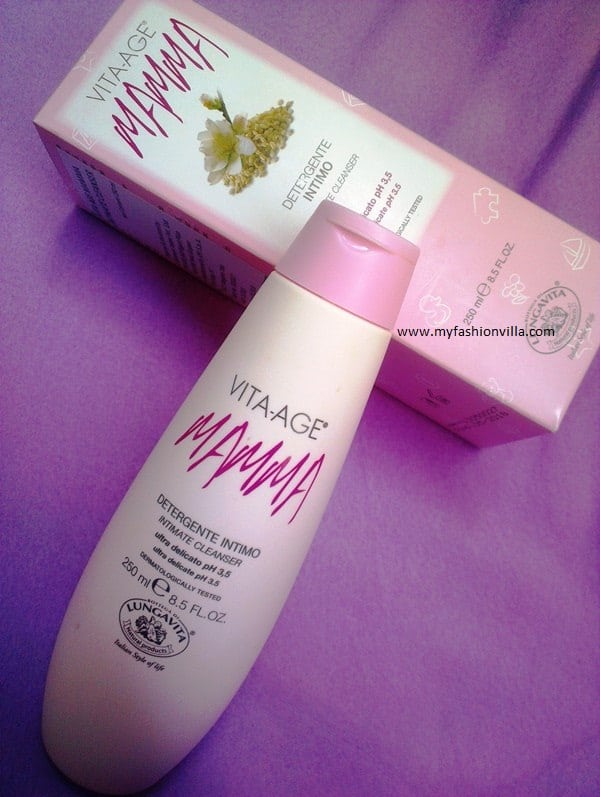 Here is Bottega di Lungavita Vita Age Mamma Intimate Cleanser!
About Bottega di Lungavita Intimate Cleanser
An extremely delicate intimate cleanser enriched with the plant extracts of Rice, Almonds and Iceland moss, with considerable antimicrobial properties.
Specifically formulated at pH 3.5 which brings the acidity of the skin and mucus membranes to normal levels promoting the restoration of natural physiological defenses.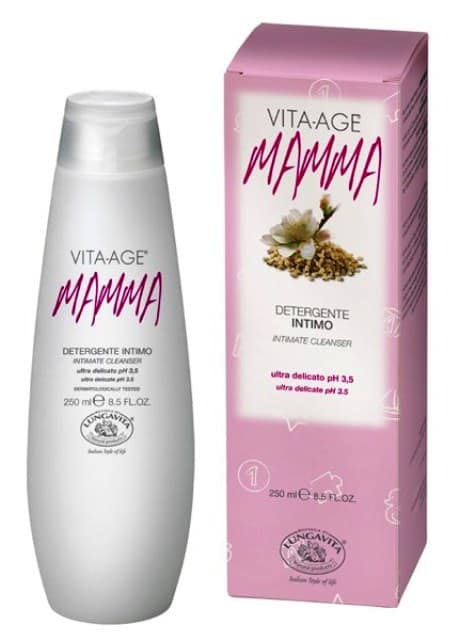 Quantity: 250 ml
Available Online on Bottega di Lungavita Website: Here
Price: Rs 750
Self-Life: 5 Years
My Experience with Bottega di Lungavita Vita Age Mamma Intimate Cleanser
As you all know, I am more in to skincare, Bodycare and Wellness than makeup, because Healthy Skin and Hygiene matters a lot to me and so for all of you, right? No matter where I am, what I am doing or how busy I am, I never compromise on health and hygiene and that allows me to use right products for my skin and intimate areas as well.
When it comes to intimate care, I am using intimate wash since long. As I said in another review of Intimate wash from my end, that was Everteen Natural Intimate Wash Review I am using intimate wash when I was 17.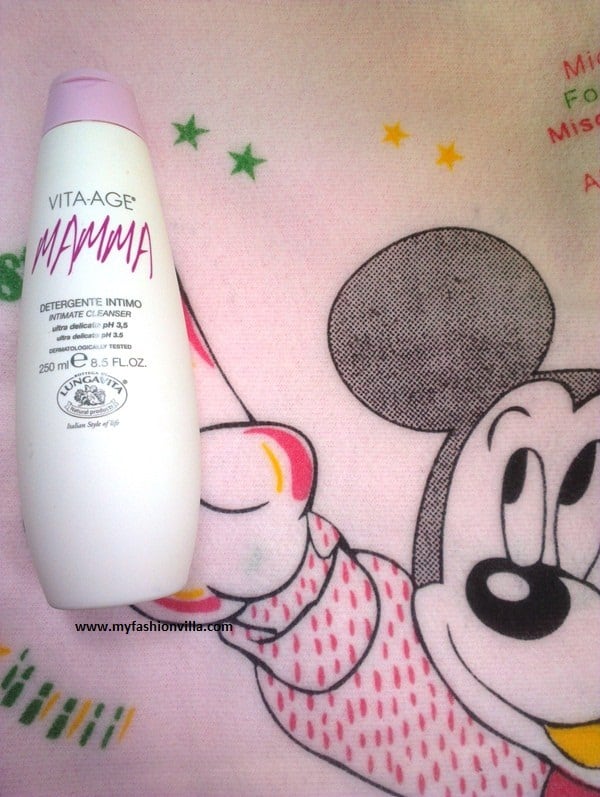 And for Pregnant women and Mothers, a Good Intimate Cleanser is a must thing to have in daily routine. I am using Bottega di Lungavita Vita Age Mamma Intimate Cleanser for last 20 days now. It is a dermatologically tasted cleanser with ultra-delicate pH 3.4 which is perfect for intimate areas.
Does it deliver what it Claims?
I got this cleanser with high expectations and I am so happy to share that it is even better than what I expected. It is very gentle and light for intimate areas. I never felt dryness or itching after applying this cleanser. Also no harsh rashes after application of this cleanser. It leaves a soothing fragrance too which makes you feel fresh for long hours!
So full marks for the quality and results.
Texture & Color:
It is transparent white color cleanser. The texture is little runny. A very small quantity is enough for one time use.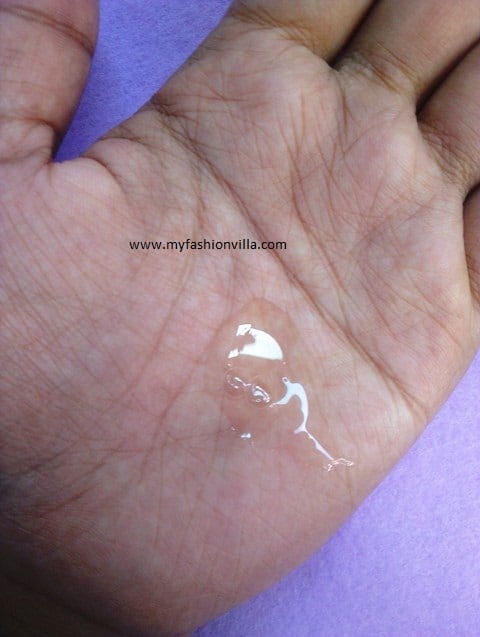 Fragrance: 
The Fragrance is just awesome. I love it totally and I feel like using it like a body wash 😛  Yes, I am totally in love with the fragrance, its Yummy!
Bonus Points?
Well, you will not find many intimate wash in market with 3.5 pH balance though it is an ideal and recommended pH for intimate areas. This is the bonus point with Bottega di Lungavita Vita Age Mamma Intimate Cleanser that it has right pH for intimate areas. Also it is dermatologically tasted, so no worries for any rashes or harsh effect on skin.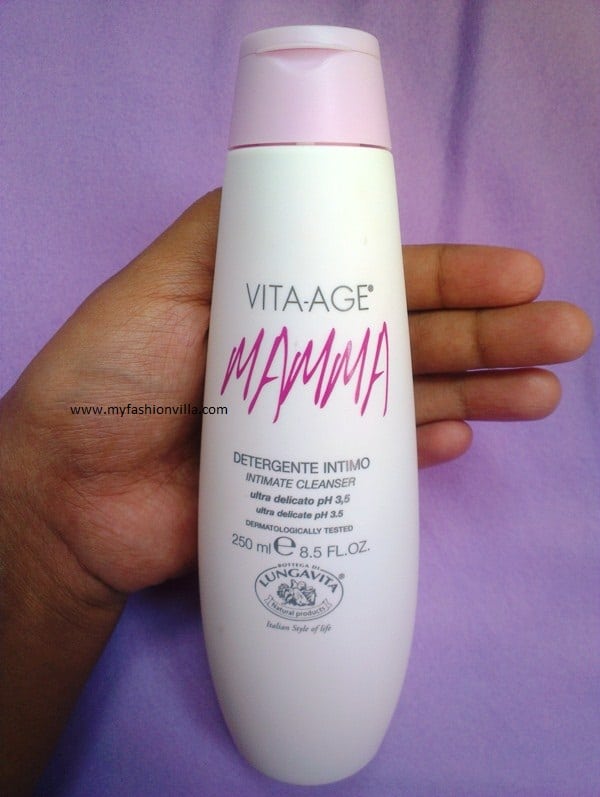 Over All…
I have used 3-4 intimate washes so far and this one is a Winner among all for sure. If you are looking for right intimate wash, Bottega di Lungavita Vita Age Mamma Intimate Cleanser is just perfect. It works and delivers best results as it claims. Price wise, it is not too costly as you just need a very small amount in one time. So, one bottle will easily last for 5-6 months which is perfect. So, not pricy for the quality it offers.
Do I recommend this Product?
Yes, For Sure. I always believe; investing in right skincare and wellness products and this one is a must have product for all ladies (Especially Mommies like me). And I am sure; you will never regret your investment in right intimate wash like Bottega di Lungavita cleanser.
Hope This Review will be Helpful to you all.
Share Your Views Through Comments!
Till Then…
Stay Healthy and Pretty!
–      Hetal