Hey Beauties! Happy Sunday. Today I am going to share review of a must have product for all women who love nail paints. Yes it is Nail Remover, and I am going to review Nail Remover Wipes and not the liquid nail remover that we usually use. I am going to share Bare Essentials Nail Polish Remover Pads Review here. Check it out.
Bare Essentials Nail Polish Remover Pads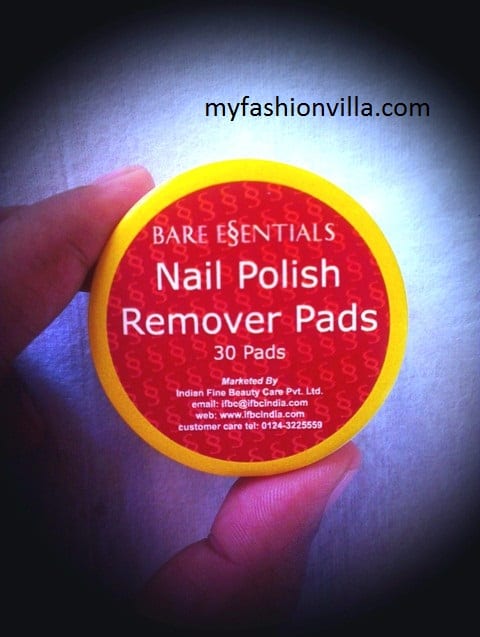 About Bare Essentials Nail Polish Remover Pads Review:
Bare Essentials Nail Polish Remover Pads are very easy to use. You must need to remove the pleasant smelling pad from the compact box and clean the nail polish. This removes nail polish without creating any mess since there is no risk of spillage. The compact pack can be easily carries in a purse.
Why I prefer Nail Polish Remover Pads / Wipes over Liquid Nail Removers?
Before I share my experience, let me tell you that I really hate using liquid nail polish removers, and the reason is, you need to have cotton with it always. Also some liquid nail removers comes in a glass bottle, which is tough to carry. And that is the reason I always prefer Nail Polish Remover Wipes than liquid nail polish removers, as you just need to carry this tiny box in your purse and nothing else with you.
My review and experience using Bare Essentials Nail Polish Remover Wipes: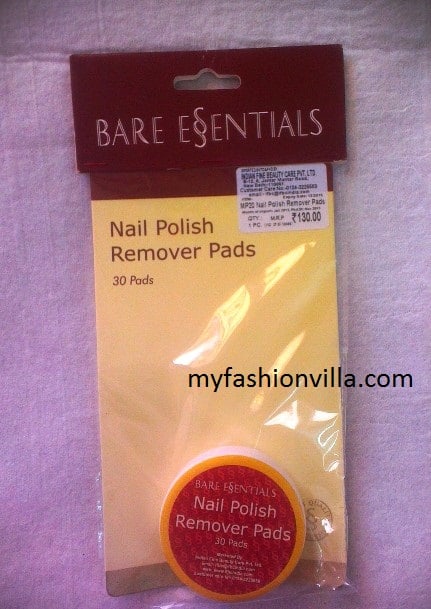 Quantity: 30 Wipes / Pack
Price: 130 Rs
Available: in Local Stores, On Nykaa, Healthkart, Snapdeal etc
I am using Nail Remover Wipes since last 1 year, though the one that I previously used was from some other brand. This one from Bare Essentials is a new one I tried. I really liked the tiny packaging. It is really compact and travel friendly. I took off one pad from this box to wipe off nail paint and it really worked well. With just one wipe, I removed nail paint from all 10 figures of mine. Yeah!! 🙂  The fragrance is fruity which I really liked, not that much strong. The wipes are made from soft material, not at all harsh for your nails. It easily removes nail paint from your fingers.
Now is the Time for Good Points and Bad Points: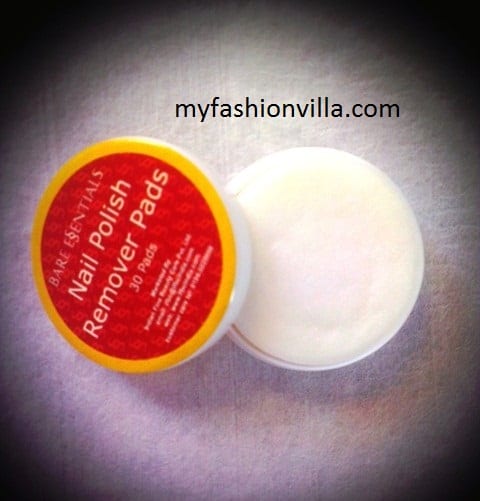 Good Points:
(1)    Travel Friendly compact packaging
(2)    With Nail Polish Wipes, You don't need to worry about product leakage in your purse
(3)    You don't need to have cotton when you want to use this nail remover
(4)    Affordable, I mean with 130 Rs, you can remove your nail paints 30 times, which is good value for money right?
(5)    It contains Vitamin E (It says so)
(6)    It is acetone free, will not leave your nails dry after application of these remover wipes
What I don't like:
Nothing much. Just one thing, you need to wash your hands after using it as you will see small part of nail color spread around your nails. But that's fine; I don't see it as major bad thing.
Hope You will find this review useful.
Hugs and Kisses.. 🙂 🙂 xoxo
– Hetal