It's March and feels like Summer has already started :-/ In Ahmedabad, you need to make extra efforts to stay calm in Summer. Actually it is not possible. Here temperature reaches 45+ easily !! Yeah.. those days are tiring. When it comes to skincare, you have to have good regime in hot summer days. Right now I am trying a newly launched Moisturiserfrom Amway. It is called Amway Attitude Moisturizer for Oily Skin (with Kiwi Extracts). I am using it for almost a month now and ready to share review with all of us 🙂
[su_button url="http://amzn.to/2Aq84Ab" target="blank" size="8″ center="yes" rel="nofollow" title="Check Price Here"]Check Price Here[/su_button]
For the oily skin type, it is really tough to choose a perfect moisturizer because the oily skin absorbs the moisturizer slower and is already sticky. So, for this, we need a moisturizer with the speedy penetrating property. And Attitude Moisturizer for Oily skin is perfect for this purpose!
So, let's talk about the details, properties, benefits and limitations of Attitude Moisturizer for Oily skin.
About the Product and Packaging
Amway Attitude is a well know brand for its beauty and skin care products that are available in the large range. Attitude Moisturizer comes in a rectangular green colored box which has the brand and product name printed on it plus the directions of use, ingredients and price are neatly mentioned at the back side of the product.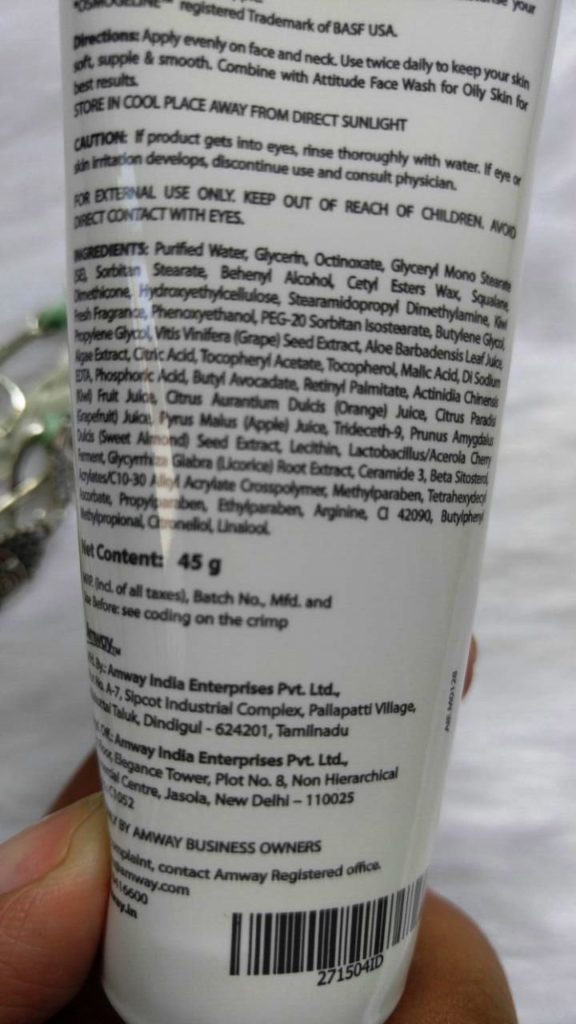 The moisturizer has a tube-like structure with a pump dispenser which makes it easier to take a right quantity of moisturizer. The tube is really travel-friendly and can easily accommodate in your small bag 😉 The consistency of the moisturizer is medium; its color is white and has a normal fruity fragrance.
Its quantity is 45 g
[su_button url="http://amzn.to/2Aq84Ab" target="blank" size="8″ center="yes" rel="nofollow" title="Check Price Here"]Check Price Here[/su_button]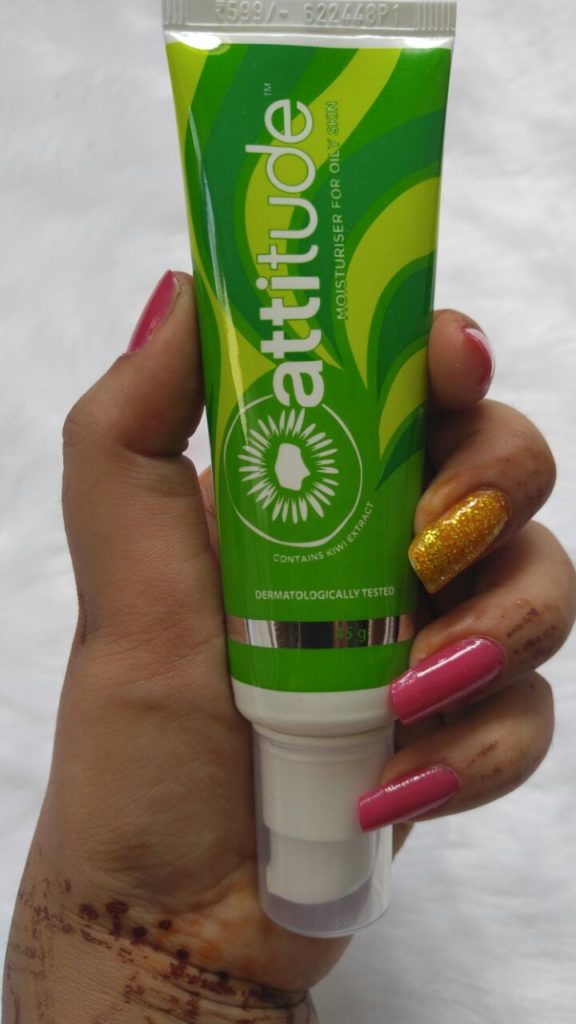 What Does the Product Claim?
To nourish the skin and prevent dryness.
Contains Vitamin A&E to protect the skin and to work as anti-oxidants.
Kiwi, apple, and orange extracts keep the skin nourished, soft and supple.
Contains 'Osmogeline' which helps in the revitalization of skin. In simple words, it is a skin equalizer (extract of red algae) which reduces redness and evens the skin tone.
Directions of Use
Take a little amount of moisturizer and apply it evenly on face and neck after cleansing with a light face wash or cleanser.
Use twice a day for best results.
 My Experience with the Product
First of all, this moisturizer is indeed great for me because I have oily skin. I always keep searching for the moisturizer which has good penetrating power and less stickiness. And with this product, I am really satisfied. I have used this product during autumn as well as during the start of winters and I noticed one thing that season really doesn't matter for this product! Even during autumn, it didn't feel heavy or sticky though I have oily skin. It is super light and doesn't seem greasy. My skin absorbed it really fast without any extra rubbing or massaging. The moisture lasted around 7 hrs and more. Moreover, I am in love with its fragrance <3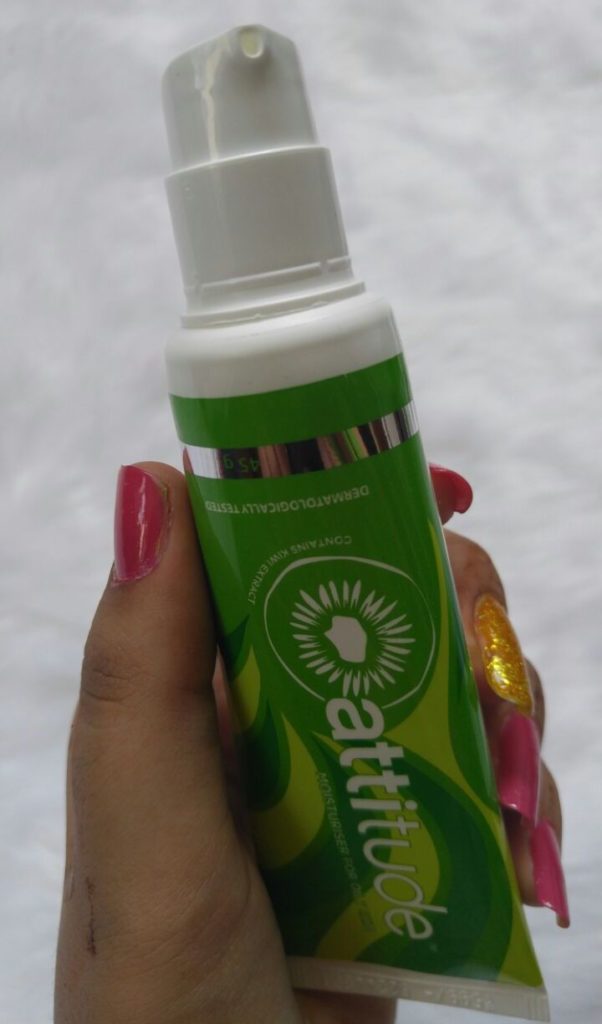 Thumbs up 🙂
Good fragrance.
Good lasting power (7 hrs and more).
Good penetrating power.
Non-greasy and non-sticky.
Easy to use with the help of pump dispenser.
Right consistency.
Light on skin.
Travel-friendly.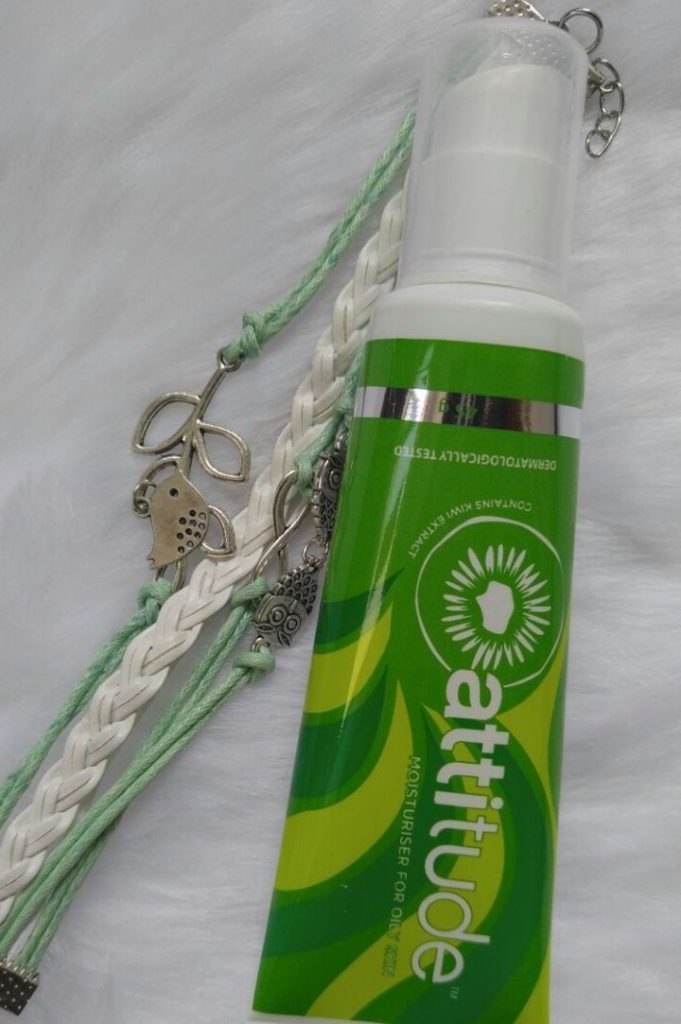 Thumbs Down 🙁
Some of you may find it pricey! 599 Rs
Finally, I would say that the product is indeed worth a try. I would even re-purchase the same 🙂
Hope this review would help you all…
Keep chilling 😉
Lots and lots of Love<3