PAESE Cosmetics is an Italian Cosmetic brand which offers a wide range of cosmetic and beauty products in many different countries. It was recently launched India too, with its branches in a few cities including Ahmedabad. PAESE Cosmetics has the range of makeup products for eyes, lips, face, and nails. They too have beauty and skin rejuvenating serums and lotions. Providing such large variety, they have maintained the premium quality for each and every product. They believe in offering value and vitamin-rich beauty products to the women out there.
Today, we are going to list down some really great products from Paese Cosmetics India that we tried recently. We have included short and snappy reviews for each product too. So, go on reading to find out our favorite products and their mini-reviews.
Paese Products are available on Amazon, Nykaa and Paese Cosmetics online. However we noticed that Paese Cosmetics are cheaper on Amazon and Nykaa than their own website as through website, you get all products at MRP.
[su_button url="https://amzn.to/2lGjqLz" target="blank" size="7″ center="yes" rel="nofollow" title="Paese Cosmetics"]Check Paese Cosmetics Online[/su_button]
6 Best Paese Cosmetics Products You Must Try
Paese Cosmetics Nail Polish Shade No 399
Paese Nail Polish in shade 399 would be loved by almost every lady out there! The shade is of Classic Pink with semi-matte finish all over. It is quite summery and fresh shade that would go with every outfit. The Key point here is the Texture. The texture of the Paese Nail Polish is very unique with a Velvet Finish. Talking about the fragrance, well it is quite normal. If you love trying different Textures in Nail Polish, then this is would be your next favorite Nail Polish.
Price- 499 Rs, Quantity- 9ml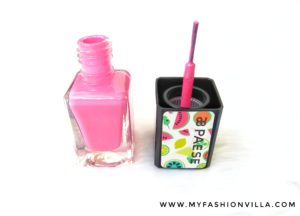 Recommended Read: AMWAY ATTITUDE NAIL ENAMEL REVIEW
Paese Cosmetics Sexapil Magnetic Lipstick 37
This is an amazing Glossy Nude Lipstick from Paese Cosmetics. It has magnetic closing and opening system, which is very smart. The brand name is printed over the black sleek body. Well, the shade is of light nude with great opaque and glossy appearance. It would look excellent on light, medium light, and light brown complexion. The best part about this lipstick is its formula, it has the goodness of Argan Oil and Vitamin E. The lipstick glides smoothly over the lips, without any stickiness or roughness.
Price- 999 Rs, Quantity- 4gm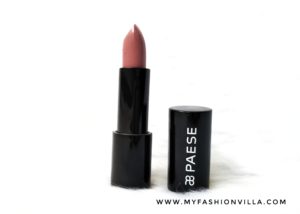 For Budget Buy Lipstick, Read: MISS CLAIRE CHUBBY LIPSTICK REVIEW
Paese Cosmetics Opal Eyeshadow – Frost Bite
Paese Cosmetics Eyeshadow in frostbite combo has three shades- White, Light Grey, and Metallic Dull Blue. All the three shades are shimmery. They are easy to apply and have a really smooth formula, including Vitamin A, C & E. The packaging is sturdy and compact enough to make it travel-friendly. It has a transparent lid, so you can see the shades easily. Check out its swatches in the image below.
Price- 749 Rs, Quantity- 5g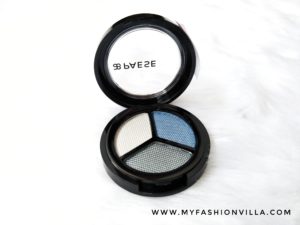 Paese Cosmetics Clair Brightening Concealer (5) Light Pink
You people might have been using Concealers during your makeup application. In case you don't know, a Concealer is a product that used to hide dark spots, scars and dark circles. So, Paese cosmetics have offered indeed a good range of "Clair Brightening Concealer" for 5 different skin tones. The one we got is of "Light Pink" shade and works well for fair skin complexion. It is lightweight and has a thin consistency. The perfect brush applicator makes easier to apply.
Price- 1099 Rs, Quantity- 6ml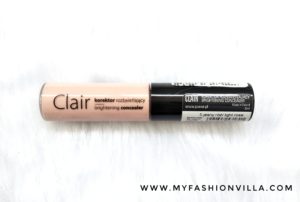 Paese Cosmetics Silky Matt Liquid Lipstick – 707
The Paese Silky Matt Liquid Lipstick in shade 707 comes in a rectangular container with a transparent lower body. The shade is of dull pink mixed with light cream color. The Lipstick is a bit glossy when applied, and after 3-5 minutes, it turns proper matte. It has a little bit of thick consistency. As the name says, it is actually silky with application and formula. If you love liquid matte lipsticks, then you must try this one! This shade would definitely look classy on all the Indian skin complexions, and even the fairer ones.
Price- 1299 Rs, Quantity- 6ml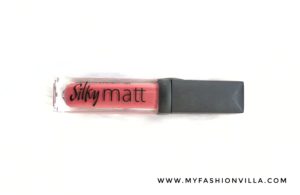 Paese Cosmetics Nail Polish – 209
Our other favorite Paese Nail Polish is in shade number 209. This is a quite rare shade that you can get in Nail Paint. It has dual shades of Brown and Translucent Green. It has a little shimmer and ultimate glossy appearance. The application is very easy and handy. You must put at least 2 coats for the perfect opaque finish. The glass body is topped with a plastic rectangular cap. It is a travel-friendly bottle.
Price- 499, Quantity- 9ml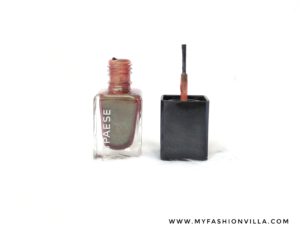 The individual reviews of Paese Cosmetics, which are listed above, would be soon up on the Blog. The reviews would have a detailed discussion about Texture, Consistency, Worth and Final Words. Tell us about your opinions for this mini-review post in the comment section below!
Love you!
Stay tuned for upcoming reviews!