How easy life would be; if there existed an option to avail various home services with a tap of a thumb. Sounds cool, right? It is absolutely possible now. In this running and complicated lives, UrbanClap is one such an amazing app that holistically resolves your worries and concerns related to home services. Read more about this app and how it works in the post below.
What is UrbanClap?
Recognized as one of the fastest growing Indian startups, UrbanClap is a market for rendering all sorts of local services. UrbanClap strives in catering all your service needs right at your doorstep.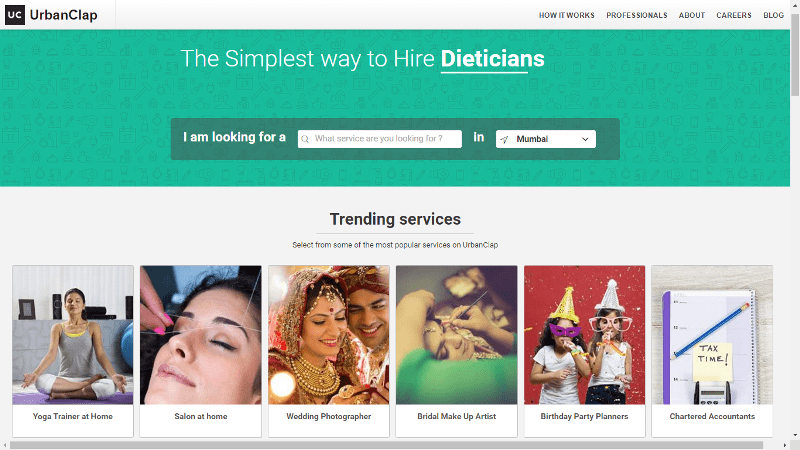 Services offered
Through its widening network across metropolis UrbanClap is meticulously trying to fulfill each and every service needs of its customers. The trending services includes Birthday Party Planner, Salon at Home for Women, Carpenters, Tiffin Service, Interior Designer, Dietician, Plumber, Laptop Repair, Baby and Kids Photographer, Car Cleaning, Driver on Demand, Folk Dance Classes, Pest Control, ZumbaDance Classes, AC Service & Repair, Electrician, Bathroom Deep Cleaning etc.
My Experience with UrbanClap
I downloaded UrbanClap a week back when we needed a person to fix our washing machine. It was an urgent need as we live in a joint family and can't skip laundry for even a day. We checked with our neighbors and newspaper. We found some contacts, but none of them were ready to come and fix same day. Then we tried UrbanClap and quickly I got confirmation and the guy came in 3 hours, and completed the job. I am impressed!
How UrbanClap Works?
The working of UrbanClap is very simple to understand. Going stepwise, Firstly, you got to explain your requirements by answering out several simple questions of our professionals so that it becomes easier for us to understand your needs holistically.

Secondly, having understood your needs you shall be introduced within a couple of hours to several professionals who suit your needs and are ready to help you out.
Thirdly, you are expected to browse through profiles of the mentioned professionals and engage with the one suiting you best. You are advised to compare profile details, price quotations, portfolios, background and relative experience. The rest is the negotiation between you and the service provided at UrbanClap.
Finally, you can directly contact the professionals for help by resolving upon your needs and skills of the professional.
Looking for a plumber? Want to hire a guitarist? Need to renovate your home interiors? Planning a house party? Looking for a candid photographer? With this and many other services in the list, UrbanClap is one stop solution. The simplest way of accessing these plentiful services of UrbanClap is by simply downloading the app on an android or iphone via App store or Google play store.
I am loving this new application which makes day to day life really easy J Next I would like to try their service professionals who offer salon service at home because I hate visiting the salon. I would love to get everything done at my place! Soon will check that too.
Have you Tried UrbanClap? If not, TRY!