It was Day 4 at India bridal Fashion Week and everyone was waiting for Rohit Bal's show. I must tell you, every time Rohit Bal comes with his collection, our Expiations are high to see some gorgeous embroidery, Barouque and Indian Traditional Art Work. After all he is known as ' India's master of fabric and fantasy'.
An ace designer, who has already dressed up many Hollywood, Bollywood and international celebrities. Cindy Crawford, Pamela Anderson, Naomi Campbell and more are some of his prominent clients. he left  the audience completely spell bound with his collection- 'The Mulmul Masquerade' . While talking to media after his show, he said "I have done so many couture shows in the past, but I never showed my bridal collection on the ramp, and it's an amazing time to showcase bridal collection."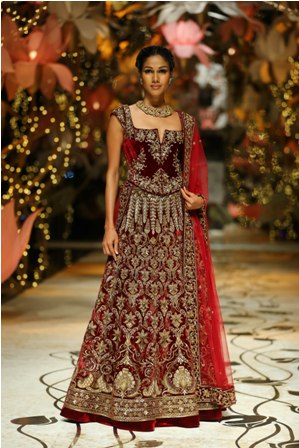 Excellent Ramp Setup at Rohit Bal's Show:
Before we could see his extravagant collection, the way his entire set was done left so many jaws dropped in the audience. There were the lotus flower pendent lamps of varied sizes which were hanging down the ceiling, and looked so mesmerizing.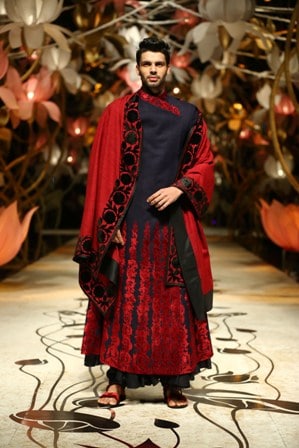 Rohit Bal's Bridal Collection:
The famous model, Nayanika Chatterjee opened the show wearing a Victorian gown. Victorian look hairstyle donned by the models, frilled high collared blouse teamed with a saree and a long robe like floor sweeping jackets, reminded everything about the Elizabethan era. With the collection, he intended to take the audience on a journey through centuries of Indian and Elizabethan eras of elegance and opulence.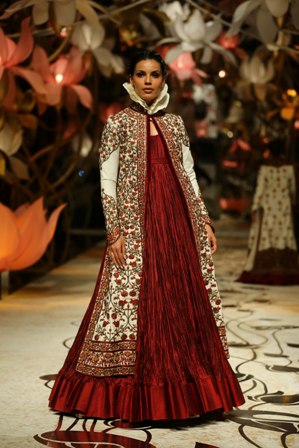 Sonam Kapoor Was Show Stopper for Rohit Bal's Show at India Bridal Fashion Week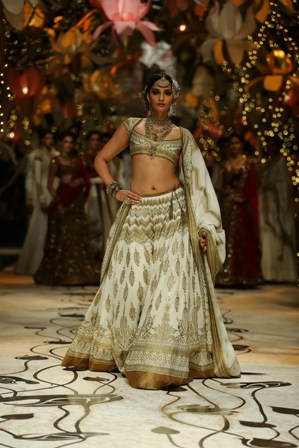 The highlight of the evening was when Sonam Kapoor in beautiful muslin and paisley pattern lehenga closed the show for Rohit bal as his show stopper. The show winded with Rohit Bal and Sonam Kapoor dancing to the tunes of a bollywood number.
Want to see more pictures of Rogit Bal's Collection? Check here MyFashionVilla Facebook
Until Next time..
Stay Gorgeous You all.. 🙂