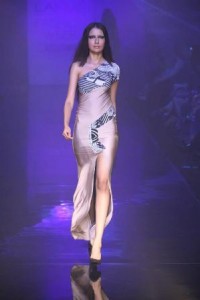 DHL presented an exciting show with 'Speed' as its theme which is the brand's distinct quality. The black acrylic ramp, the high-tech laser show and the opening with waves of Technicolor strobes set the mood for the first collection by designers Shivan & Narresh. With the legendary stallion, Equus as an inspiration, Shivan & Narresh created a luxurious collection to match the theme from DHL which was Speed.
Their new fabrics which were inspired by the gloss of a horse's skin were ideal for the swim and cruise line. The exciting handmade louvered jersey was moulded into stylish mailot, bikini, dress, gown, sari, tankini, trikini, jumpsuits and shirts as well as the duo's newest addition after their bikini sari and Kaftan sari the "Kafsuit".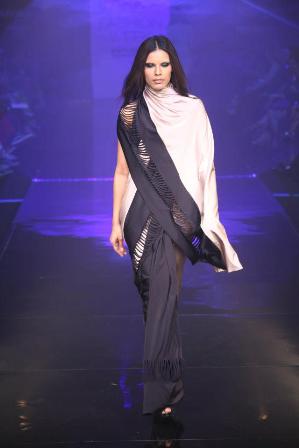 Detailing was restricted to braiding which was an obvious reminder of the horse mane and appeared to highlight the bodice and necks of the garments. Tassels entered the collection in the crystallised form to recreate the tassels on royal horses. The very abstract horse print in black appeared discreetly for the mailots; while at other times there were geometric motifs to break the solid colour tones.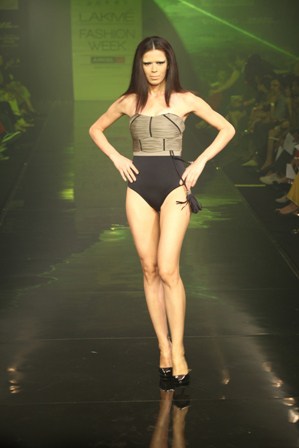 The colour story was muted with grey, brown, beige, ice grey, black and acid for the body moulding creations which were beautifully finished and constructed. The finale entry – a slinky gown with the long horse mane as the only embellishment in front, reminded the audience very firmly about the speed of DHL and the imagery of the stallion.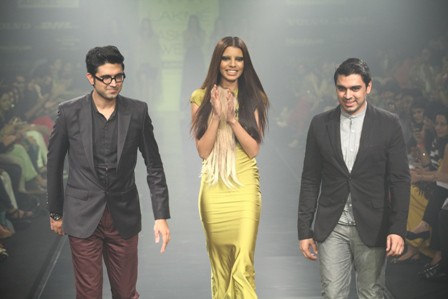 The 26 piece collection which was displayed briskly on the ramp by Shivan & Narresh for DHL, once again proved that when it comes to fashion for in and out of the water the pair is still the undisputed leader.