Hello sweets!! Hope you all are happy and healthy. Today I am going to talk about Facial Toner. Earlier I was skeptical to use toners because they make my skin, oily and I don't like that typical smell of toners! If you are using toners, you will understand what I am saying, but lately I have realized that toner is an important thing to include in my daily skincare routine. So I have started using toners 1 year back as a part of my daily skincare routine. Today I am reviewing one good alcohol free toner, it is Puro Body & soul Facial Toner.

About Puro Body and Soul Facial Toner
Puro's alcohol free toner hydrates, tones & refreshes the skin whilst removing impurities and restoring balance without drying the skin.
Directions to use:
After cleaning, dampen a cotton ball with toner and gently wipe face and neck. Follow with any Face wash for best results
INGREDIENTS:
Aqua, HamamelisVirginiana, AleoBarbadensis, Tocopheryl acetate, Lavender Oil, Tea Tree Oil, geranium oil
PRICE: – Rs. 275
QUANTITY: – 100ml
PACKAGING: – It comes in a transparent plastic bottle with spray dispenser. The bottle is sturdy and spray dispenser allows dispensing right amount of toner on a cotton ball.
My Experience with Puro Body and Soul Toner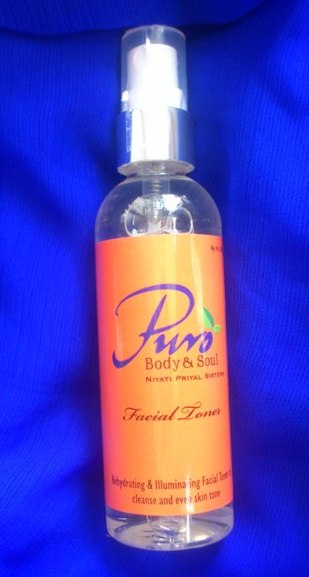 Puro Body and Soul Facial toner makes my skin soft, smooth, clean and radiant. It does not cause any adverse effects to my skin. It removes all dirt and grime off my skin without drying it out.
The best thing about this toner is, it is alcohol free, does not cause any breakouts. And it is mild too, not loaded with harsh chemicals.
What I like about Puro Body & soul Facial Toner
Lovely, refreshing scent.
Makes skin soft, smooth, clean and radiant despite not creating rich lather.
Does not dry out the skin.
Gentle on the skin.
Contains 3 essential oils.
Suits all skin types.
Travel friendly packaging.
Alcohol Free
Suitable for Sensitive Skin
No other harmful chemicals
Affordable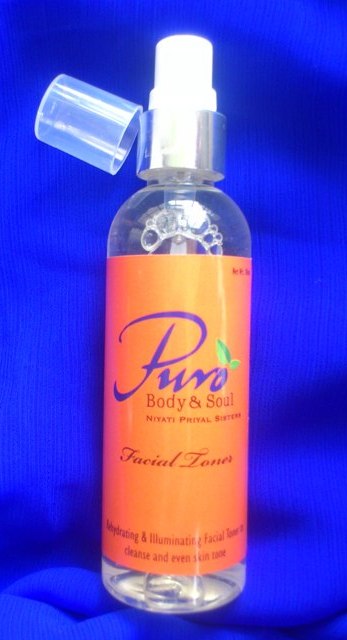 What I do not like about Puro Body & soul Facial Toner
You need more quantity to apply it all over the face
Not available in all cities. In this case, You have to buy it online
Overall, I really liked Puro Body and Soul Facial toner. If you are looking for natural, alcohol free toner, go for it!
What do you think? Have you used this toner or any other toners that you like the most! Share Your Views..
Lots of love…