Wait, what? Did I read it right? Is that KYLIE written over there? Yes! This was my reaction when I got this "Kylie lip Kit"!!. Believe me, I was actually surprised:O First thing, it is really tough to get them because as soon as they're on website, they go out of stock! Second, they're really costly and plus the shipping charges. Talking about Lip kit, well, you people already know who is the owner and founder of this huge makeup brand- Kylie Jenner. She created a hyper craze among all the young ladies by launching these super Matte Liquid Lipsticks! She has by now launched, hundreds of shades including Velvet and Metallic textured ones. One of them is "Dolce K" shade which is very interesting yet tough to pull off.
So, without creating much suspense I would jump to the Detailed review of Kylie Lip Kit Dolce K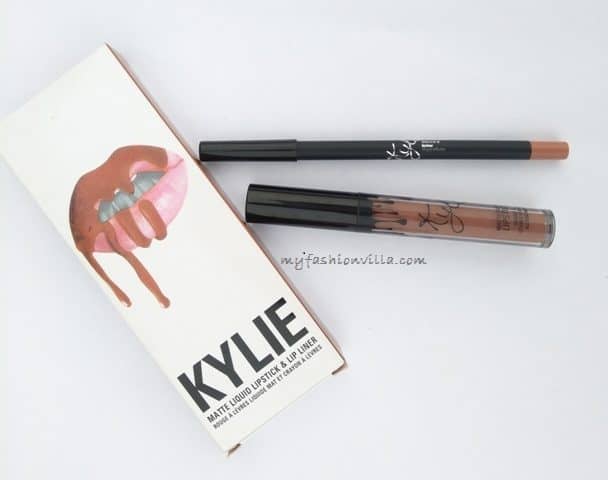 About Brand, Packaging and Details
I guess I don't need to introduce the brand here;) You people must be following their social media pages curiously! Not only lipsticks, but they have also a WIDE range of premium quality makeup products. Mostly their products are used by professional makeup artists and celebrities.
Coming to packaging, well it is quite neat and simple. There's a rectangular white coloured box with KYLIE printed in bold letters on it. It has a "dripping lipstick over the lips" logo at the front. The left and right side have the colour which indicates the colour of lipstick. On the top(opening), the shade name is mentioned. At the back side all the details of ingredients are given.
You would find a glassy transparent lipstick bottle with a black cap and a thin black coloured lip liner. The lipstick has a long brush which ensures the easy handy application. It has a super creamy texture and softest formula ever! It would glide like butter on your lips. Colour is like dull beige or you can say a dull brown nude. It would appear quite unique on fair skin and would appear nude on brown skin tones. The fragrance of lipstick is of choco-vanilla…yumm:D The lip liner is really soft and delicate. It doesn't have any noticeable fragrance.
Its net quantity is 3.25 ml and is priced at $29 which is around 1870 Rs.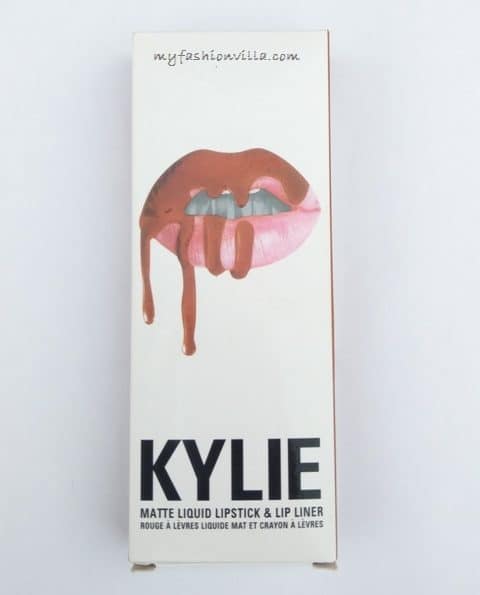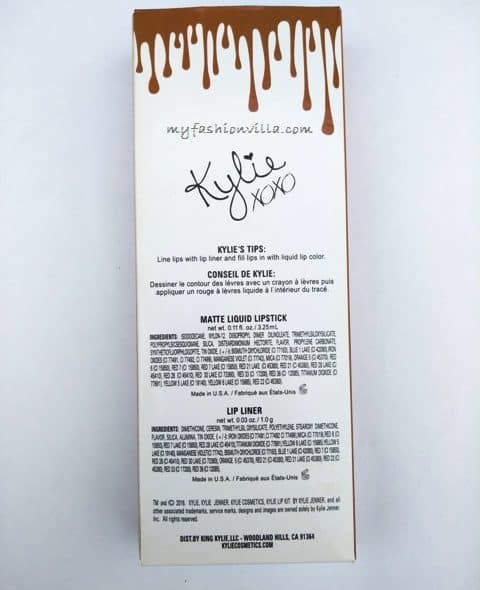 My Experience with The Product
I have been using Kylie Lip Kit Dolce K shade from a couple of weeks and today I am so excited to share its review with you all.
For the first day, I applied the lipstick by outlining my lips with the lip liner and then filling it in by lipstick. The lip liner is damn soft and easy. It is a bit light in colour compared to the lipstick. If you have darker lips, then the lip liner would not be visible. In my case, it was a little bit visible, as I have a medium brown tone. Here, the lining step is really important because if you'll apply lipstick directly, it would become difficult to correct it.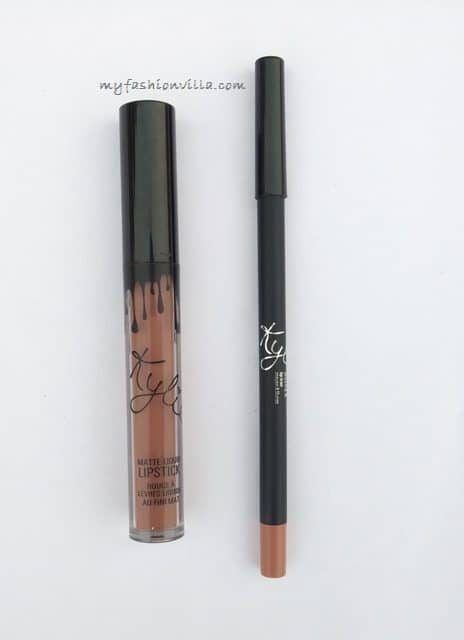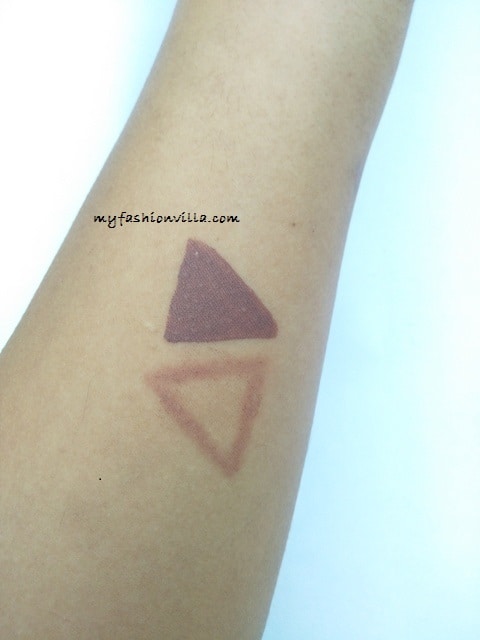 Colour and Texture
The lipstick is waterproof and smudge proof. While applying it feels light and creamy. Yes, it would take a minute or two to dry up perfectly. And during this time avoid touching your lips, otherwise it would create lumps on the surface.
After drying, it looked like matte muddy nude shade as per my skin tone. It is actually long lasting lipstick. I applied it in the morning and till 8pm, it was the same except for few areas looking dry and hard. The lipstick is not at all transferable or sticky. It won't smudge, seriously! The reason why my lips looked over-dried and patchy was -I did not apply moisturiser on my lips prior applying lipstick! Yeah, that is a rule with liquid or solid matte lipsticks. You HAVE to apply moisturizer before the lipstick, reason being, the matte lipsticks don't contain high level of moisture and they have long lasting formulas, so our lips end up looking dry and patchy. Well, initially it might feel a bit heavy but after some applications it won'tJ
And, before ending this review I would like to share some tips regarding application of matte lipsticks and its shades.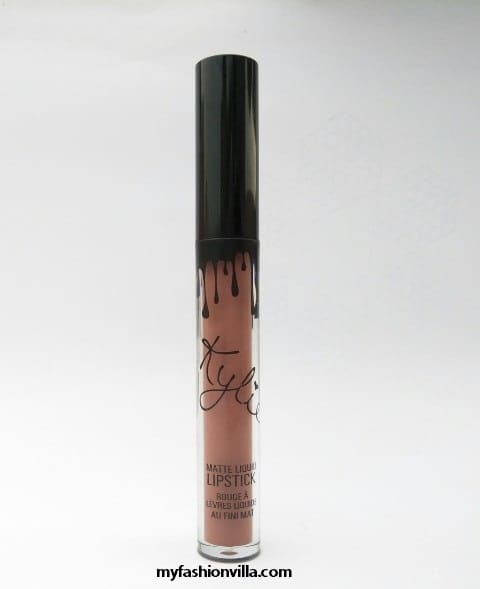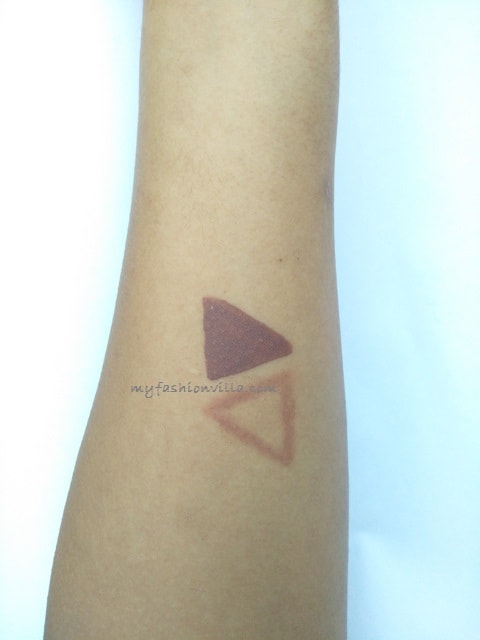 Tips to Remember:
Before starting the makeup steps, apply moisturizer on your lips.
If you notice patched lips, then scrub them first and then put the moisturizer.
While going with pale or nude shades, keep the cheek contour and blush sober, sharpen the eye look by putting on an eyeliner and dark eyeshadow(optional).
Planning to go for darker matte shades, keep the contour light and add a touch of shiny eyeshadow.
Going with pinkish mattes? Opt for lightest contour. Highlight your check bones, nose and forehead with highlighter and draw a thin eyeliner to complete the look.
Do use makeup remover to remove the matte lipsticks and especially liquid ones. If you will go with makeup removing wipes, you'll end up tearing your lip skin.
Yup, so take care about these tips from next time whenever you apply mattes!
Now, to summarise my points for Kylie Lip Kit Dolce K
Points I Liked Kylie Lip Kit Dolce K
Simple yet classy packaging
Amazing fragrance
Super creamy texture
Nude/dull/muddy colour (current sensation)
200% matte finish
No stickiness or foul taste.
Travel Friendly packaging
Waterproof and smudge proof
0% transferable
Long lasting (10-12 hours minimum)
Soft lip liner
Points I disliked about Kylie Lip Kit –Dolce K
Too expensive i.e. 1870Rs ($29) for 1 kit (lipstick and lip liner). Though some people would love to give it a try but many would probably find it costly.
Lip liner has very less quantity. The liner tip you see outside the pencil is the only amount you have (i.e. 0.5cm). Though few videos on Youtube are saying that it can be sharpened with a sharpner but I have not tried it out.
Sometimes the lips might turn bit patchy.

 So, finally here I am able to explain my detailed opinion about Kylie Lip Kit Dolce K
Don't forget to share your views about this lip kit in the comment section below!
Stay connected for new interesting posts!
Love y'all!!!
HUGS!!!!!!