These days, basic makeup has become really necessary and why not? Everyone loves to look presentable! Isn't it? But How to Apply Makeup? What is the right order of Makeup Application? To master the art of makeup application, you must know the correct order of applying makeup products. If you don't know yet, how to apply makeup on face, here we have a step by step guide for an easy makeup application.
Why You Need to apply Makeup in a particular order?
Perfect makeup is achieved only after following the correct steps properly. And if these steps aren't followed properly, the makeup would look incomplete and might give a fake n cakey look to your face. Especially in summers, makeup needs a firm base which would make it last longer.
How to Apply Makeup?
Generally, makeup steps are same for all the face shapes and complexions; however, makeup products and tricks can differ a bit. Though we know the makeup application after watching 'dozens' of makeup tutorials, we never make it to the same level when we try it. And it is just because of following the steps improperly. So, let us get straight to the "step by step easy makeup application".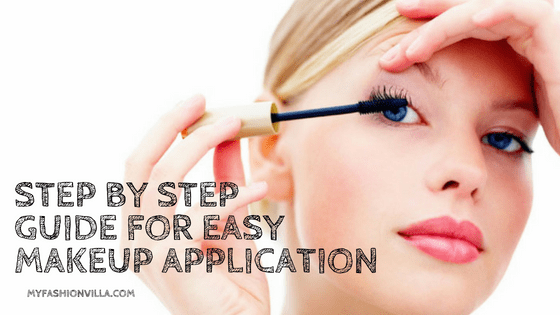 Right Makeup Application Order For Flawless Makeup Application
Cleansing: Makeup can't be applied on the oily and unclear face. You need to cleanse your face before applying any makeup product. You can use any face cleanser or face wash that cleans your skin and leaves it oil free and soft. Make sure it doesn't over-dry your skin.
Moisturizing: After your skin has been cleaned thoroughly, it should be moisturized in order to keep it from drying after some time. This is a really important step of the makeup application because if you wouldn't moisturize your skin properly, it would gradually lose its glow and softness after 1-2 hours. If your skin type is oily, then use some mattifying (matte finish) lotion. Read about: Skincare for Oily Skin
Primer: To hold your makeup for a longer period, the primer is to be necessarily used. Primer works as the base of makeup. If the base is absent, then makeup would too disappear after 2-3 hours. Primer is a transparent, semi-gel like product which gives a glow, elasticity to skin and increases the lasting power of makeup.Many people ignore this step while applying makeup which is the biggest mistake. While applying primer, just take 3-4 drops of it and gently massage on your face (don't rub, don't use a brush), avoid the eye area.
Foundation and Concealer: Well, there has been a debate on 'whether to apply foundation or concealer first?' The answer is simple, if you have acne marks and dark circles then apply concealer first and next foundation.If you don't have many spots then you can go with applying foundation first and then concealer. The fact here is that concealer is very heavy and firm.If too much concealer (to hide too many spots) is applied after foundation, it would become cakey and look multilayered. While applying concealer, blend it with the foundation as good as possible. Apply concealer with a smaller brush or sponge. Foundation should be applied in dots and then blending with a brush. Don't forget to apply foundation on your neck too.
Eyebrow: Eyebrows are the most attractive part of the face. The right eyebrow makeup can slay the look! Start with outlining the brows with the help of a thin brush or a brow pencil. Then fill in the brows with the suitable color from the shadow palette. Now, take the thinnest brush and carefully darken small brow hair. Then finish off it by applying a pinch of concealer just around the border (to give neat look). If you have stubborn unshaped brow hair then do apply some gel before makeup.
Contouring & bronzer: Contouring gives a sharp structure to our face. It enhances our cheekbones, nose, and chin.  Perfect contouring requires few special techniques and some experience. By experience I mean, the knowledge about darker tone bronzer that would be perfect for your skin and how to apply it. Usually bronzing is done by thicker brush. You just need to slide the brush diagonally down your cheeks (starting from the outer corner to the center). Next, use the brush at two edges of your nose gently and at the border of your face too. Make sure it gets blended nicely so that you don't look like an 'alien' 😛
Blush: The pinkish cheeks are still everyone's favorite. After finishing contour part, blush is to be applied. Going with or without blush is actually a personal choice because, for everyday makeup, contouring is enough (as it enhances your cheekbones). The tone of blush should be selected as per your skin tone. Plus, don't apply blush too much, it should just have a little hint.
Eyeshadow, Liner, and Mascara: Doing eye makeup is not so tough, it just requires some patience. First, apply an eye-shadow of your choice on the lid. If you want it to look professional, then try a light brown shadow in the center and dark brown at the outer corner. Next, apply eyeliner by starting from the inner corner of lid and slowly dragging it to the outer corner. If you don't have practice, then please use a lighter shade pencil liner so that it doesn't smudge everywhere. Lastly, apply mascara to your upper and lower lashes.
Lip Liner, Lipstick, and Gloss: Coming to the most favorite part of all the ladies out there, lipstick. Here you can choose from the matte, glossy, or semi-glossy finish. Talking about the color, you can go for nude, dark or just a tint. First, apply lip liner carefully and then fill in the area with lipstick. Apply some concealer with thin brush around the boundaries of lips for a neat look
Highlighter: After all the steps are over, highlighting is done. The highlighter is a shiny (not glittery) powder that gives a good shine to your prominent facial parts like cheekbones, chin, nose tip and the center of the forehead. Apply the highlighter with the brush on the above-mentioned areas and you are ready to go!
How to apply Makeup daily? A Few tips to develop an easy makeup routine for day to day life
Sunscreen should be applied after moisturizer if you are going to be in the sun for a longer
Sometimes you will not have time to follow all the steps, then just apply a BB Cream/CC Cream, Pressed Powder, Mascara and Lipstick for the minimalist quick look.
If you feel it is too hot outside and your makeup might not stay because of sweat and use some setting spray at the end. It makes Makeup durable.
For the matte finish look but if you don't have matte lipstick, then apply the lipstick, dab it with tissue paper and repeat, lastly, put a pinch of talc on lips and blend.
REMEMBER: never sleep with your makeup on. It can actually damage your skin.
Follow these simple and easy steps to make your makeup look like professional one! Hope You enjoyed this post and find it helpful. Let us know. If you have queries or want to connect with us, feel free to email us at [email protected] and Yeah!! Do connect with us on Facebook, Twitter and Instagram. Find us with the handle "MyFashionVilla" on social media.
P.S. If you enjoyed this post, I would suggest reading out post on HOW TO GET HEALTHY GLOWING SKIN? 7 DEADLY SINS TO AVOID