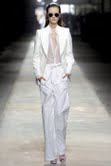 Ear rings, bracelets, danglers, and feminine apparel? These are passé. It's time for you to try something different. No more donning those dreary and typical feminine garments. Now it's the season to go masculine with your trends and style. For that casual and chic look, you just have to rummage your boyfriend's wardrobe. Dig into his shelf and be an attention grabbing girl.Going by the boy's way is cool and exciting.
Be it a pair of sunglasses or a chopped hair, a pair of denim or a T-shirt, a funky cap or a formal shirt, all is fine and fair when it comes to show off your tomboyish style.
The denims are evergreen and you just can't go wrong with it. There are no set of rules when it comes to denim fit. You can try all fits and patterns with ease and comfort. So why not his? Just try to be a little smart with your pick and here you go sexy and sizzling with your new wardrobe. You may find your boyfriend's jeans heavy and over-sized but remember those baggy jeans? It's still in and if not you can set the trend to be so. So just give a shot and get into one. You can even fold the jeans from the edges below to flaunt that harsh and rocky look. If ''I-don't-give-a-damn" is your attitude, then male T-shirts are the next thing to try. This way the slimmer ones can flaunt their slender figure and the hefty ones can hide it if required. Nothing can get funkier and chic than getting clad in his casual everyday T-shirts. You can find him close to you when his T-shirt clings on to you. Wow! You must be craving to get him along this way.
Even you can go the formal way with his office shirt. Just roll the sleeves up and tuck in the shirt at your waistline. By teaming it with a nice pair of jeans or caprice you can go the real masculine way. Well you are not new to wearing shirts but if it belongs to your better half, nothing likes that. A feel-good factor also connotes a lot to fashion. Apart from clothing there must be other accessories stuffed in his cupboard to accentuate your look. Try his pair of shades and carry off his cap. And why not sneakers if it's the right size.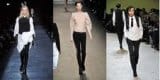 Hey girls! if you have your lover with you well and good and if not the cloth store must be at an arm's length. Just go to the boy's section and look for some funky baggy pants, loose shirts, and some hood style T-shirts or a hat to donn. Go, get clad like an opposite sex and liberate yourself from that stereotypical outfits and make-up.
This is the guest post from Alia Haley, who wrote one more post previously about Fashion and Color Theory. If you have not read that fabulous post, read it too.  Alia Haley is a blogger and writer. She loves writing on fashion and style. Beside this she loves travelling. These days she is busy in writing an article on easy skin care tips.