Hiee everyone!! I know you people are super curious to know A-Z about Bardot Tops and Dresses. Well, even I became fond of this style, when I saw those retro Bardot Style tops, jumpsuits, Bodysuits, rompers and dresses coming again to rule the fashion industry. And by now you can see many people flaunting Bardot style at various occasions, whether it is a party or a day at office! Bardot clothing is not only graceful but also elegant.
Here is the post with Everything You Need to Know About Bardot Tops and Dresses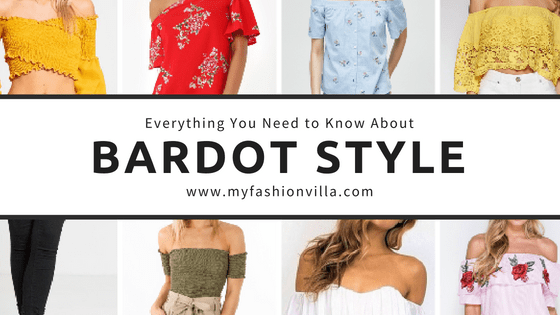 Origin of Bardot Style
Wearing Off-the-shoulder dresses has been observed from mid-1800's. It was worn during the Victorian era, but then came, Bardot Trend! Bardot Briggitte is a French actress, singer, dancer and a fashion model. She popularised the Bardot Neckline. Bardot Neckline is a neckline which reveals the shoulders and collar bones. As she was a popular personality, this off-the-shoulder trend was named after her. Yeah, so this was the simple Bardot meaning. And carrying Bardot fashion is even simpler!
How to Choose Bardot Tops?
Bardot Tops are simple tops having smooth off-the-shoulder neckline. It is neither too deep nor too high (but still, depends from individual to individual, either to go with regular or deeper neckline). Mostly it looks good being a bit loose and comfy rather skin-fit. Even Bardot (off shoulder) flared tops look adorable! Here are some of the standard Bardot Tops/Bardot Blouse:
Simple Bardot top- Choosing for  a routine casual look, grab a simple Bardot top with dark jeans and a choker.
Bardot crop top- Your high waist jeans would look even more cute with a bardot crop top. You can choose from different styles like, flared, balloon or skin-fit.
Bardot skinny top with short sleeves- Well, this can be teamed up with a dark colored pencil skirt which would ultimately enhance your silhouette.
Bardot Frill top- Getting all frill is always fun! Pair it up with pair of denim shorts  or boyfriend jeans.
How to style Bardot Neckline/Tops?
You can wear ripped jeans with Bardot top to give it a casual look.
Plain blue/black bell bottom jeans are going to slay when paired up with Bardot top.
If you decide to go with Bardot Flared top/Ruffle top, pair it up with cute pair of denim shorts.
Want to try Bardot crop top? Try it with high waist jeans or high waist palazzo pants. (can also try high waist pencil skirt <3)
Wear a catchy coloured choker while flaunting Bardot Neckline!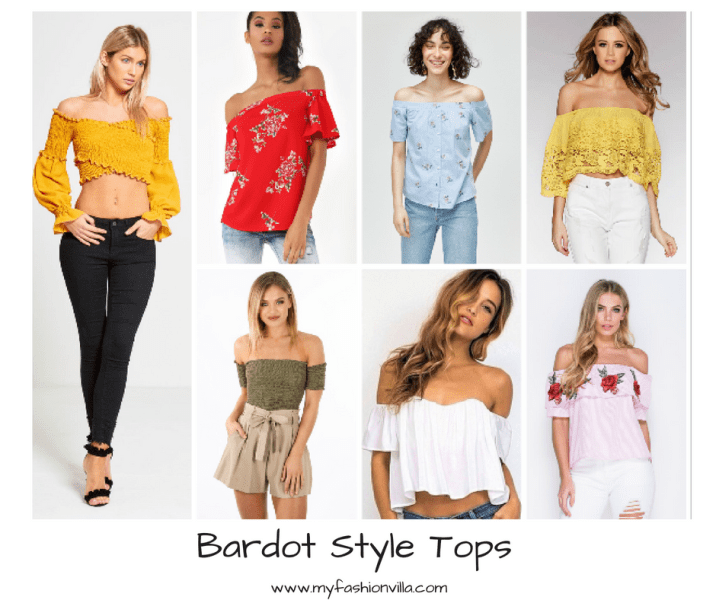 Types of Bardot Dresses
Bardot Dresses are the simple dresses with Bardot Neckline. Well, there are many kinds of dresses available in Bardot style, Such as: mini dress, midi dress, party dress, formal dress, Lace dress, flared dress.
Bardot form fit dress- You can rock this dress at a date night or at a club party!
Casual Bardot Dress-For your daily casual look or for a coffee with a friend, casual Bardot dress will be perfect!
Bardot Flared Dress-This can be your pretty casual dress or for a hangout with friends.
Formal Bardot Dress-Going really sober and calm with colours and patterns, choose plain/solid or stripped decent dress for office look. Team it up with matching sober wedges (not too high).
Bardot lace dress- Bardot dresses are really easy to carry, but this lace Bardot dress can't be carried carelessly. This is designed for the special occasions like wedding or a huge party. Wear high heels and just a bracelet as an accessory.
Bardot gown- Now, this is a really elegant masterpiece. These are meant for the "carpet events".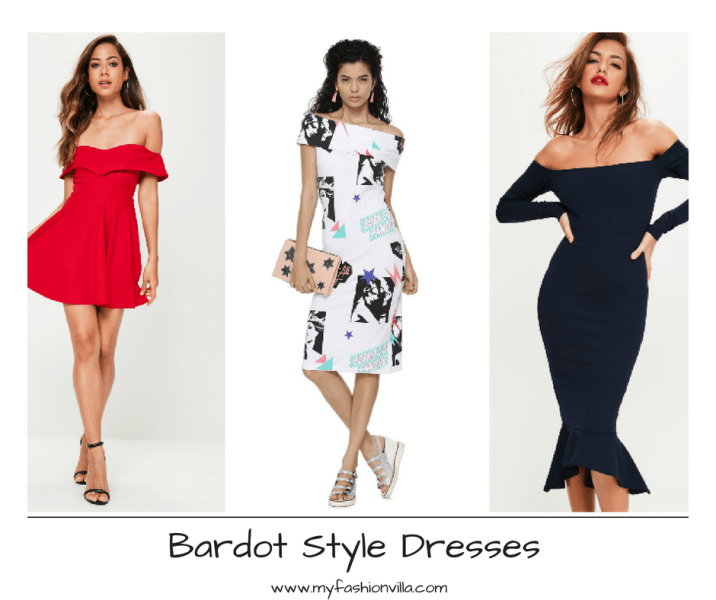 How to Wear Bardot Dresses?
In case of Casual Bardot Dress, you can pair it up with lace up shoes or low-top sneakers.
You must wear heels with a flared Bardot dress.
Keep the makeup sober when opting for casual look, but do play with different lip shades;)
Pair up matching pumps or stilettos with Bardot lace dress
Don't wear chokers with formal or occasional Bardot dress.
Yeah, so this was all about Bardot Tops and Dresses, but I have found people asking about "what to wear underneath Bardot style tops/dresses?" So, here are some of the suggestions for the correct Bras for Bardot top/dress.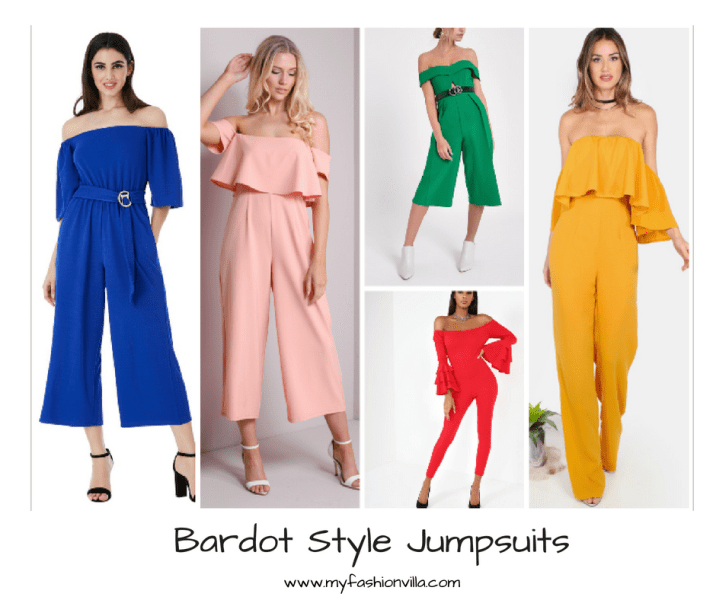 What to Wear Underneath Bardot Tops/dresses?
Bra Top-For Bardot shirts and flared dresses
Tube Bra- Wear this under the Bardot form fit dress.
Adhesive bra- should wear underneath Bardot lace dress.
Corsets-Can be worn under Bardot lace dress or Bardot gowns.
Bandeau bra- to be worn underneath the casual Bardot tops
Strapless bra- For casual and formal Bardot dress.
Bardot Style is never tough to carry, it is all in the mindset that, "i am fat so probably won't look good enough", " tanned shoulders don't look good" Leave all these worries behind! Start experimenting! Love yourself, your body, embrace your natural beauty! 🙂
Yup, so this was all about the returned retro "Bardot Fashion". I hope you all found it helpful and would also start flaunting Bardot style with confidence! Love you all!!!!!
HUGSSS!!!