Sarees are heart of Indian traditional clothing. The Indian textile industry bring us the best and unique fashion for Sarees. Almost every woman in India is fond of wearing beautiful Sarees. A Saree becomes phenomenal only when it is worn with an extraordinary blouse and here the Blouse Back design comes in the picture. Every girl dreams to own the most beautiful blouses with the most sexy Blouse back designs and patterns.
Different styles of blouses give a different look to the simple saree and adds that oomph factor! The blouse designs have been changing since eras. Every next era has its own trend of blouse styles. In that context, the back designs of blouses play a vital role in setting up a style. There are numerous blouse back styles available and trending high on our Fashion Meter!
Now you don't need to spend hours on Internet Googling Latest Blouse Back Designs which are sexy and trendy. We have curated the best for you. Yes, here we have most stylish and latest in Fashion Blouse Back Designs which will rule this season.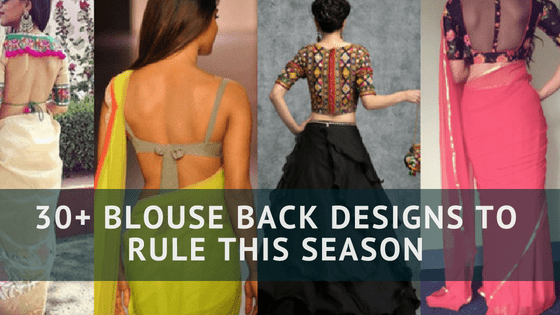 Here we have 30+ sexy and trending blouse back designs of the season
Round Neck Blouse Back Designs
Backless Blouse
V Neck Blouses
Blouse with Tassels and Pom Poms
Net Blouses with Sexy Back
Fairy-like Lace Blouses
Blouse with Back Patterns
Key Hole Blouse
Funky Blouse with Digital Print at Back
Handwoven Blouses with Traditional Prints and Motifs
Superhot Criss Cross Blouse Back
The Royal Embroidered Blouse Back
Blouse Back Neck Designs With Patch Work
Fancy and Designer Blouses
Kutch Work Blouse
Peplum Blouse
Corset Blouse
Princess Cut Black Side of the Blose
Blouse with Jewels and Hangings
The latest Cape blouse
Back Collar blouse/Peter Pan Collar Blouse
Looped Back Blouse
High Neck Blouse
Blouse with Back Zardosi Work
Halter Neck Blouse
Backless Blouse with Border
The trendsetter off shoulder blouse
The Updated List of Latest Blouse Back Designs for the Year 2018 – 2019
Simple Round Blouse Back Designs
Simplicity never goes out of style. The simple round (bit high) necks look really sober yet elegant with a touch of embroidery or prints on the borders.
Tip- include atleast 2-3 simple round neck blouses in your wardrobe because they go with every type of saree and are necessary for certain places like office, formal meetings etc.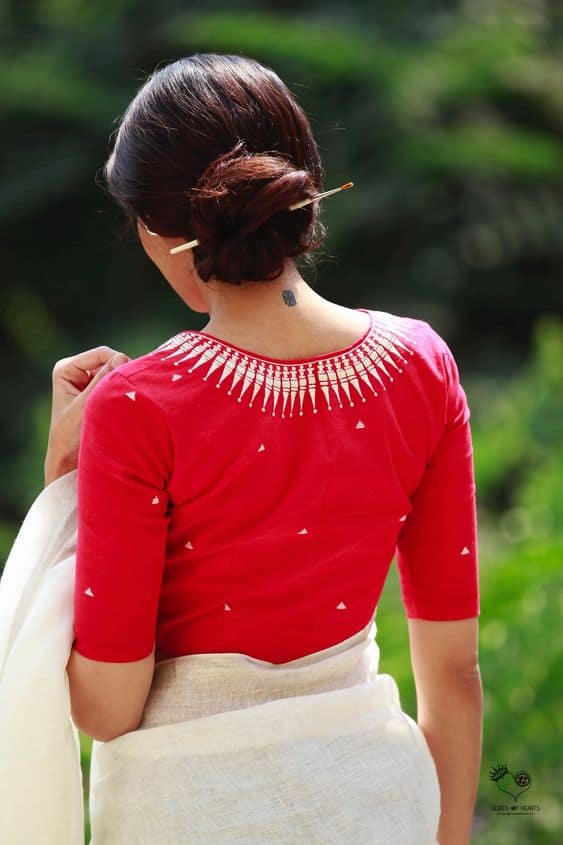 Haven't we all dreamt about wearing a sexy backless blouse with a poping saree? YESSS!! so this time go bold with your backless blouse and try on creative styles in backless. There is ribbon, bow and diamond studded styles. If you can't think of anything else, remember this, "backless blouse with dori" is always a good idea.
Tip- going to a club, party or a evening parties, style your backless blouse with minimum jewelry. Just add a pair of long dangling earrings.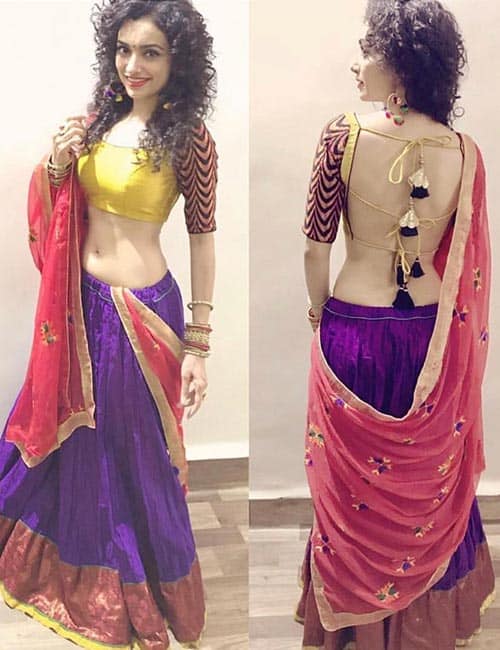 V Neck Blouse Back Designs
The evergreen style. V-shaped deep back cut gives you the sense of boldness as well as class. The V-shaped cut also has many varieties, so instead of going basic, try new ones- bow, satin, tassels.
Tip- The V-shaped back -blouse can be worn at get-togathers and simple hangouts aur a dinner date. Make a up hairdo like buns or messy buns to slay the look.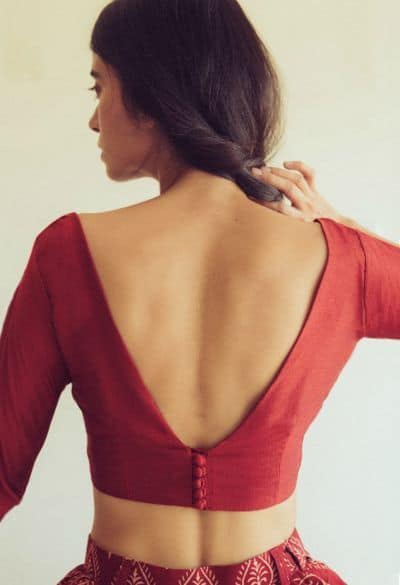 Blouse with Tassels and Pom Poms
Came across an instagram account "nakhrewaali" who brought up this trendy blouse design. Tassels are attatched with the upper section of blouse and there is a big cut out till the end or probably just a "dori". The tassels can also be on the bottom of the blouse. Also, there are designs of muiltiple tassels or pompoms.
Now, you take this as an Inspiration and try similar designs with lots of variations. Sweetheart, this be your flaunt!

Tip- To carry a blouse with such funky tassel design, wear a cheerful printed saree with it. Make a messy bun and add a pair of shades to go ultra Extra!!!
Trendy Net Blouse Back Designs
these are really eye-catcher. Sometimes, it is the embroidery, sometimes the glitter on net and sometimes the entire blouse<3 These are some latest net blouse designs.
Tip- To carry net blouses, go simple with saree and try to minimize the jewelry. You can go with gorgette or a net saree to compliment the blouse design.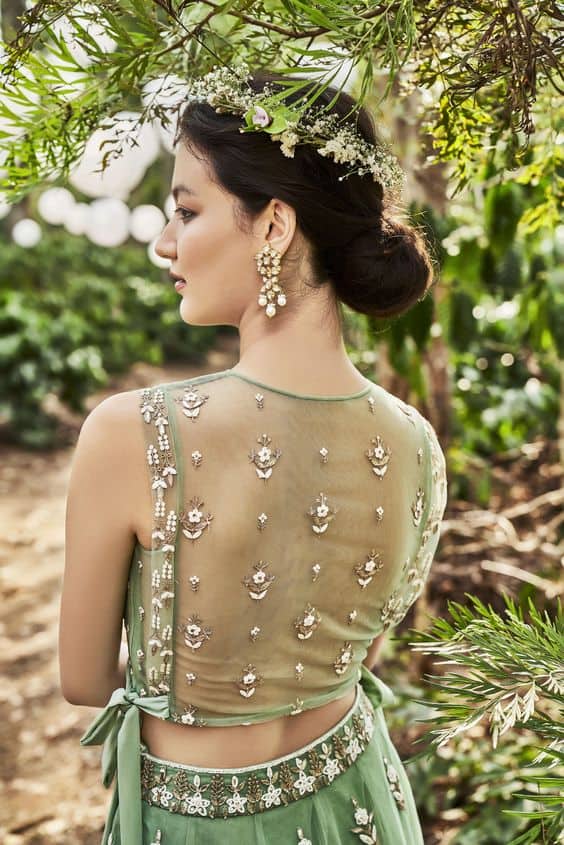 When we talk about sheer blouses, we can't just ignore the lace ones. The lace blouses with sheerness give rich look. Lace blouses seem to be favourite of all the celebrities, you can spot many wearing lace blouses and looking stunning.
Tip- The lace blouses can be teamed up with a see through net saree having embroidery. Also, a chiffon saree would rock!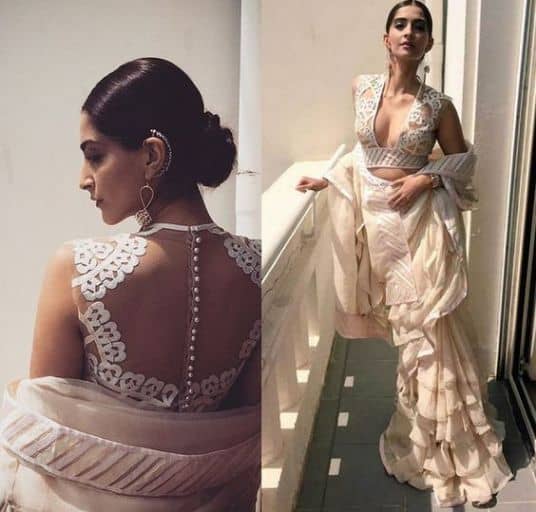 Blouse with Back Patterns
Well, these "oh so awesome" blouse back patterns are simply love! Thanks to all the creative minds out there! There are so many patterns like stripes, the loops, w and variety of cutouts.
Tip- go simple and casual with the creative patterns at the back, here you can add some colorful accessories to match your blouse.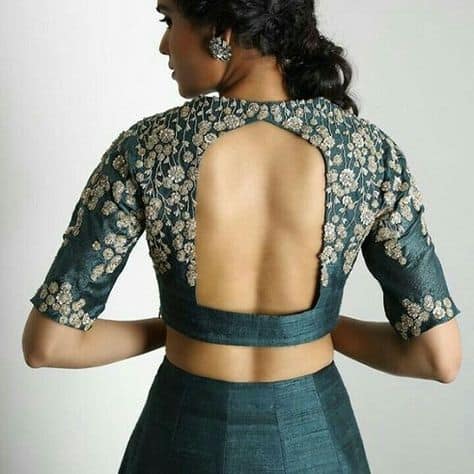 Key Hole at the Back of the blouse
Key hole is really standard style of blouse back cutout. There is a vertical key hole shaped cutout on the back. Very simple and classy. You must have the blouses with key hole back as it is really basic and classic pattern.
Tip- The key-hole blouse would go with almost every type of saree whether it is net, cotton or chiffon.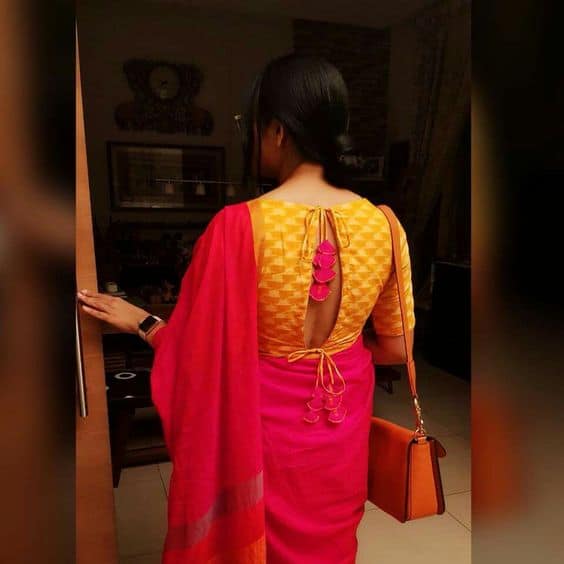 Funky Blouse with Digital Print
So, we came across an online shop called "Lovetimri" which yet again left us in "woahhhhh"!!! These Blouse Back Designs with digital prints look out of the box! I think i must get my hands on that "Marlyn Monroe" one. there are several portrait prints and nature inspired prints too. It is called "Parama Blouses" available on lovetimri.com
Tip- The digital print blouse would look amazing with a cotton or a synthetic Saree. Don't add much jewellery or accessories with this, just put on some oxidised neck piece or a pair of earrings.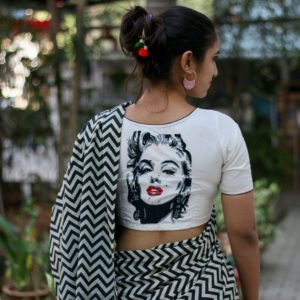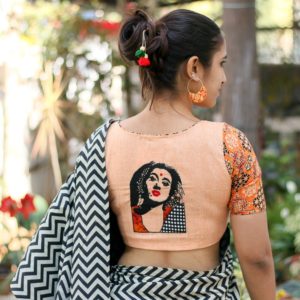 Handwoven Blouses with Traditional Prints and Motifs
The typical blouse with "not so typical" print idea. These are the prints which are running since ages and will forever be in trend. The tribal prints, ikkat, dhabu, ancient prints and puppet prints!
Tip- These printed Blouse Back Designs are always stealing our hearts. The dark coloured sarees would be complimenting best. Don't opt for net/embroidered or chiffon sarees with such blouses.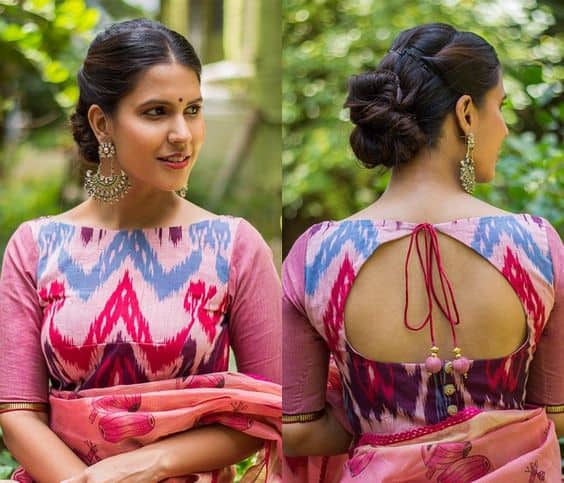 Superhot Criss Cross blouse Back designs
The most interesting and sexy blouse back design of all the time, is criss cross back! The strings are tied up in a criss cross manner at the back, giving a glamorous look.
Tip- Try wearing a plain Saree with catchy solid colour. Here, you can add waistband (Kamarbandh) to give hottest look!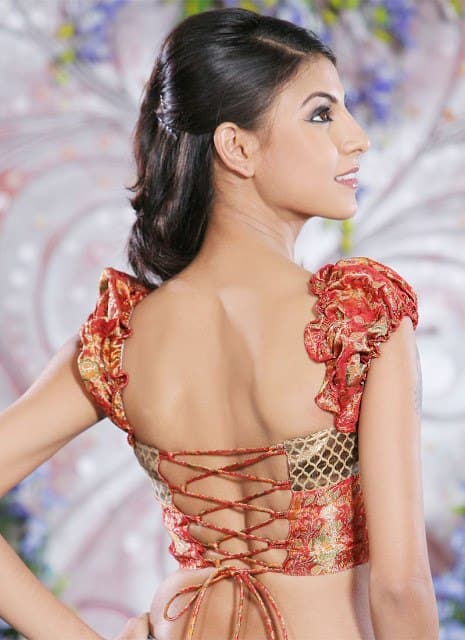 The Royal Embroidered Blouse Back
The purely traditional embroidery on blouse stands out. Attending a fest/cultural occassion? go with embroidered blouse backs. Not only on the sleeves, but also backs, it has great look.
Tip- To be put a royal look, go with a slik saree or a net saree with embroidered border. Add some  traditional touch with jewelry like jhumkas or a necklace.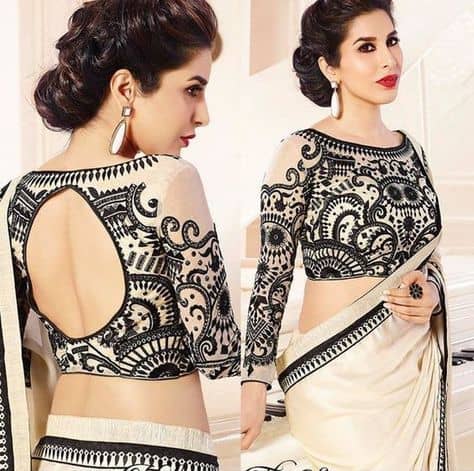 Blouse Back Neck Designs With Patch Work
Patch work is a creative thing and Blouse with Patch work looks extremely beautiful. The designer can create blouse back neck designs with patch work using needlework, creating beautiful back design attaching different colored and textured fabrics together to create a specific motif or a pattern. Blouse back neck designs with patch work is ever green, never goes out of fashion. Be creative and take inspiration from below patterns.
Tip- These days funky and dramatic motifs are so much trending in fashion. Create a cute Animal Motifs, Your Favourite Comic Character using patchwork at the back of your blouse. Be creative!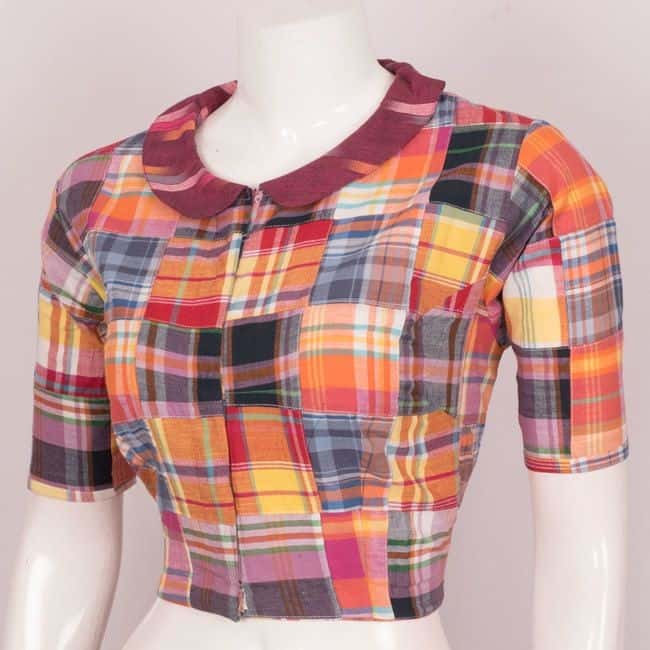 Fancy and Designer Blouses
Nothing is ever too extra! put on those, bell sleeved blouses, the jacket type and the collar ones! Stand out of the crowd with a flared net blouse. team up boho jewelry with designer blouses to rock the look like a pro!
Tip- Be creative here and create something extra ordinary back patterns which will stand out. Drape the saree such that your blouse back gets the attention.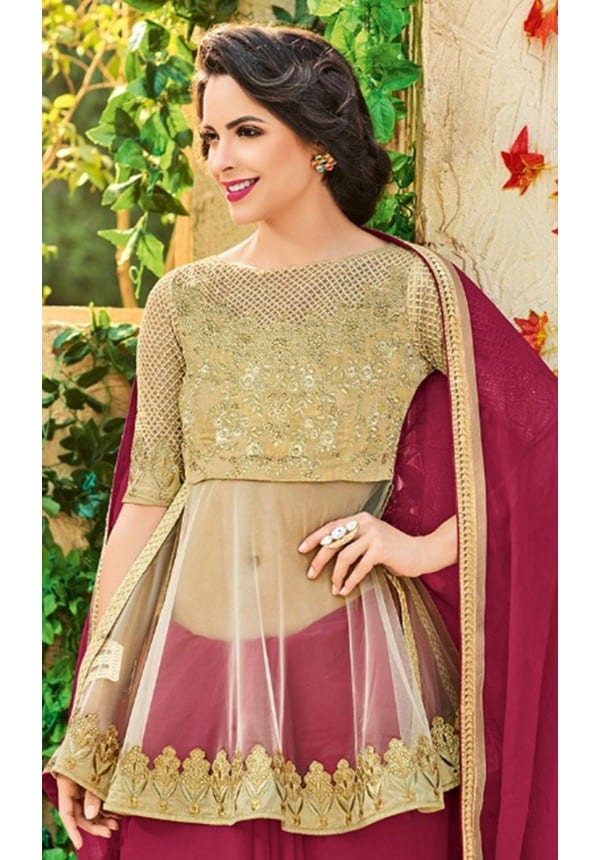 Can't complete the wardrobe without inculding a kutchi style blouse. The blouse is detailed with kutchi work/embroidery with some reflective coins/mirror stitched on surface. The blouse back is also loaded with precise work and details.
Tip- I would say add at least one blouse with Kutchi Handwork at the back and over the sleeves to your wardrobe. You can pair this blouse with any solid color saree and it will look really trendy!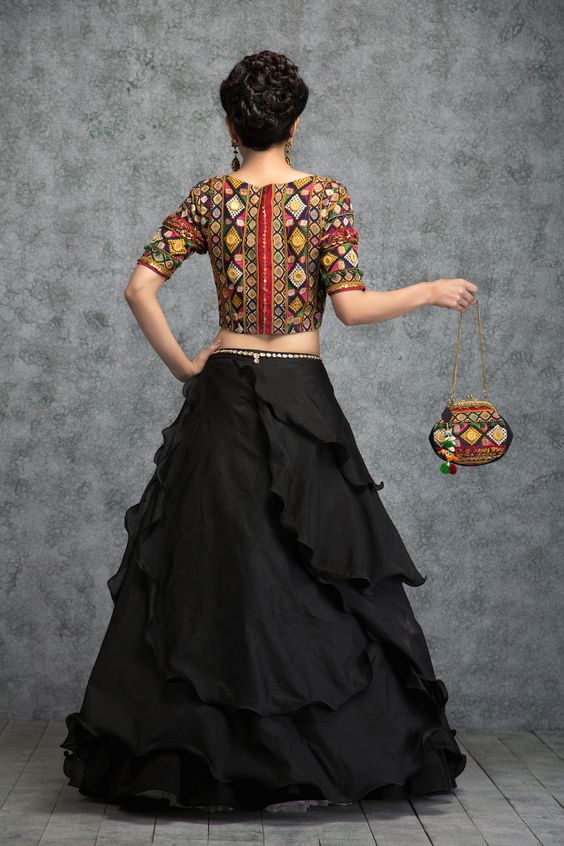 This blouse has a little flare at the bottom, which goes till the waist and covers the belly. When you don't want to put the pallu entirely on your sleeve to cover belly and back, just wear a peplum blouse and put the pallu in quiet thin area.
Tip- Wearing a neon Colored Saree with contrasting colored Peplum blouse would be a head turning outfit. Try wearing high heels with a Peplum blouse.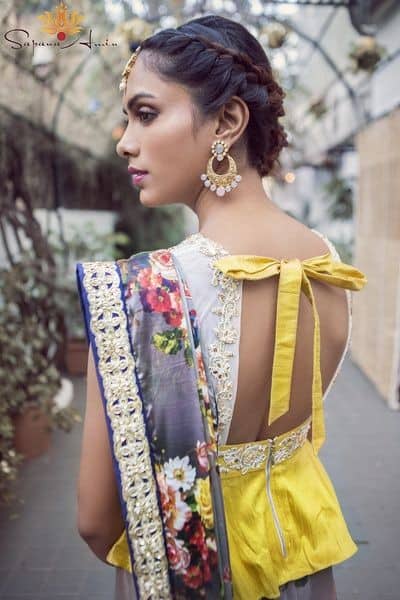 "Corsets are boring" – said no lady ever! From all the kingdom era, corsets have been center of attraction. Today, the corsets are not only limited with gowns/dresses, it can also be teamed up with a saree, giving an ultimate princess feeling!
Tip- Corsets blouses are not tough to carry. The main point here is, don't cover the blouse with your pallu. Just set it in minimum area, instead of covering entire belly and chest.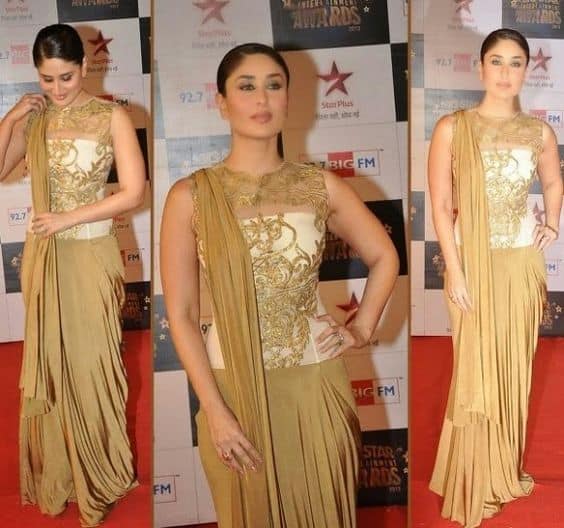 Princess Cut Blouse Back Designs
the princess cut blouses are indeed popular amongst all the other patterns. Recently Sonam Kapoor wore a white colored lehenge with golden work at her mehendi occasion. That blouse was having a deep princess cut at the back.
Tip-The princess cut blouses are coming into the limelight again. So it is really very necessary to have one in your closet.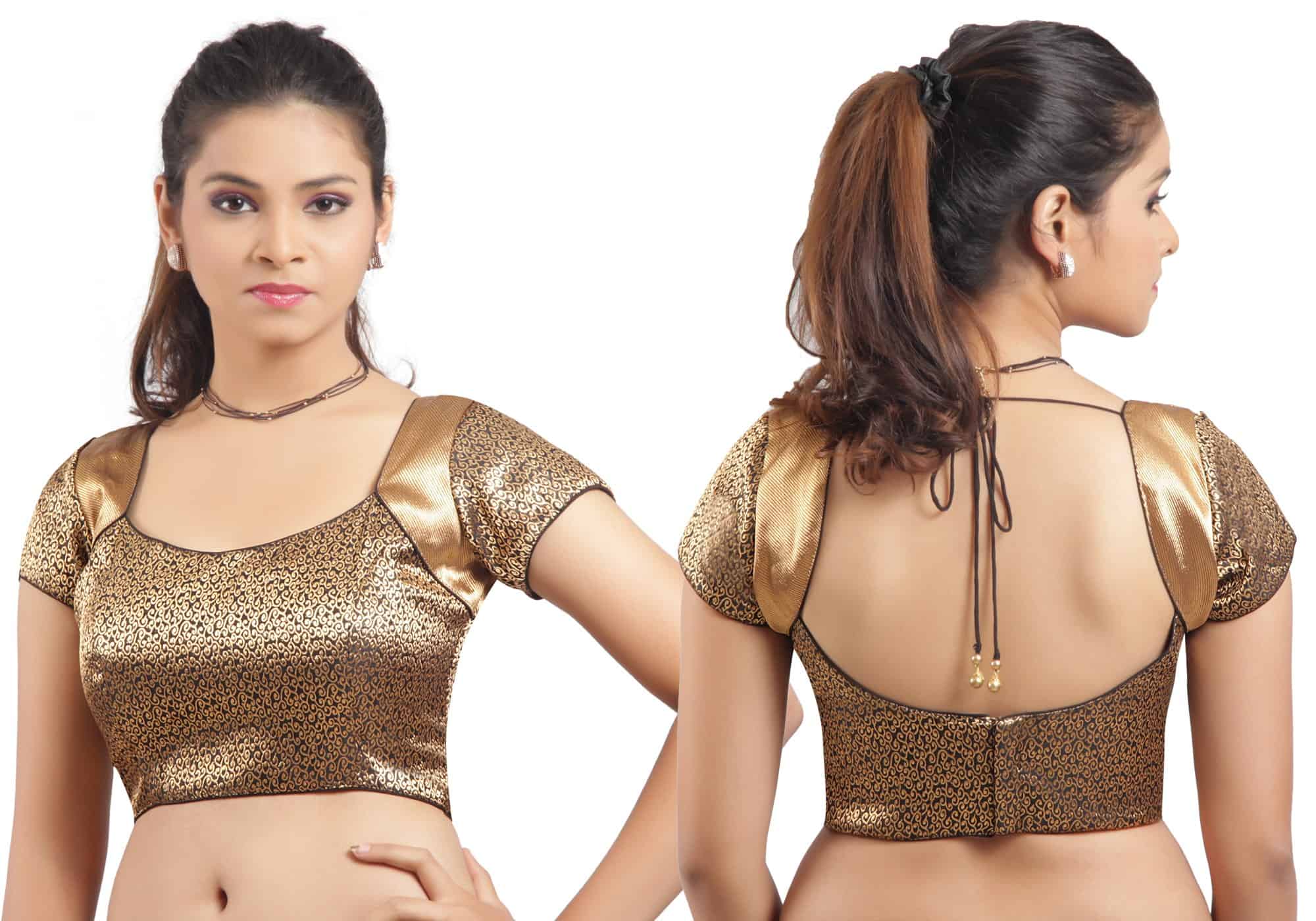 "bow down to bow style!" well, with blow styles, we can find many sub-styles. In some style, the bow in on the bottom of blouse back, and some, it is on top or in middle. There are even multiple bows on the back.
Tip- Wear a bow style blouse to a dinner outing or a party with friends. You can experiment with colours in here, but don't opt for printed blouse in bow style.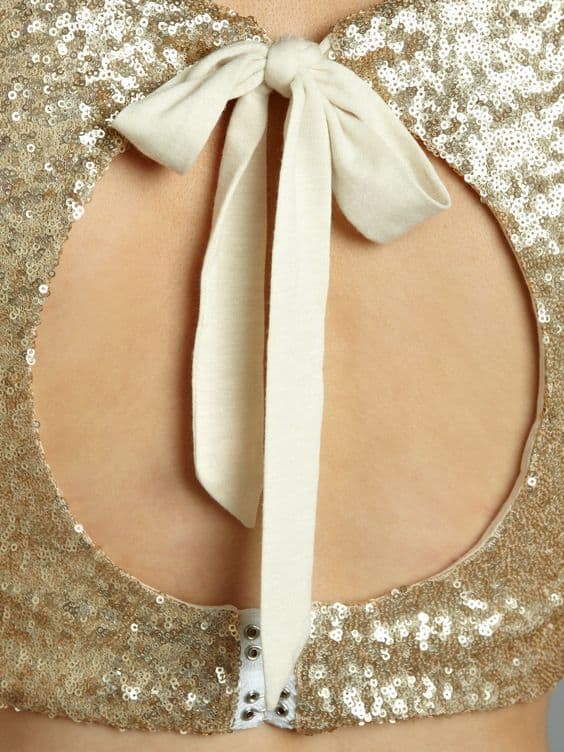 knotted blouses are quiet related with the bow style. The blouse has a big knot at the back (lower or upper part), making it a big bow. These knots can be of satin, net or any silky material.
Tip- With a knotted back blouse, a Georgette or a Chiffon Saree will look 10 on 10. Go easy breezy with Knotted back Blouse.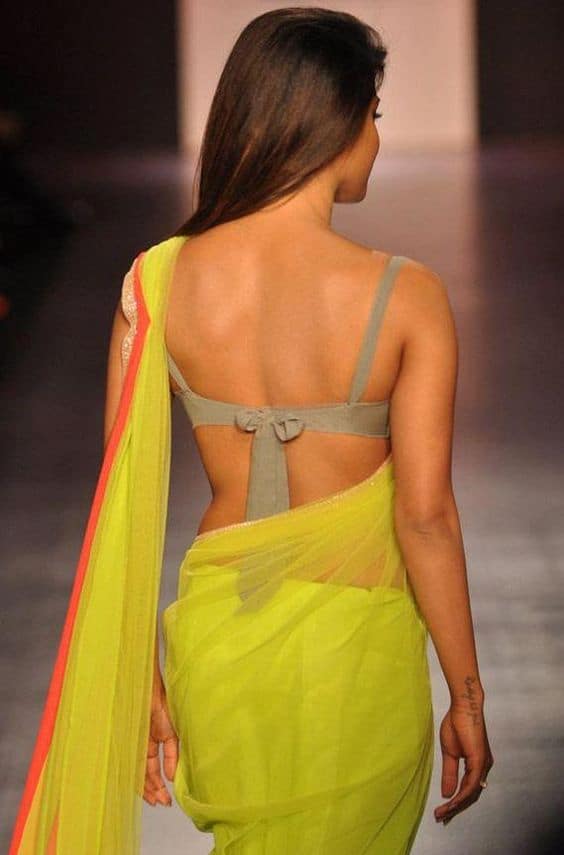 Blouse with back buttons and studs
drop the idea of wearing the simple buttoned blouse back, go with the loop buttons,hanging buttons and even some shiny diamonds or decorative stones.
Tip- The blouse with decorative studs at the back can be worn to wedding functions like sangeet, baraat and etc. Indeed it looks pretty!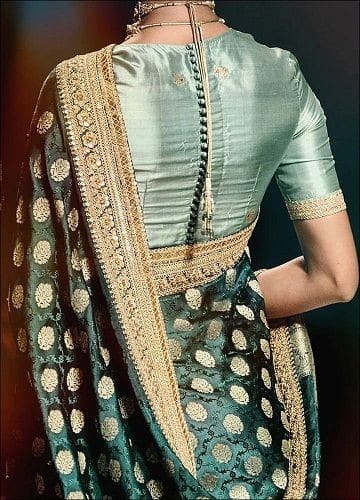 Blouse with cutouts at the Back
The most important part of blouse back designs- the cutouts. There are thousand shapes available for the cutout design on the back. The asymmetric, fish, drop, and butterfly are some of the most popular cutout shapes. Here are some gorgeous ones.
Tip- The blouses with trendy cutouts can be worn in routine as for the workplace or even at home.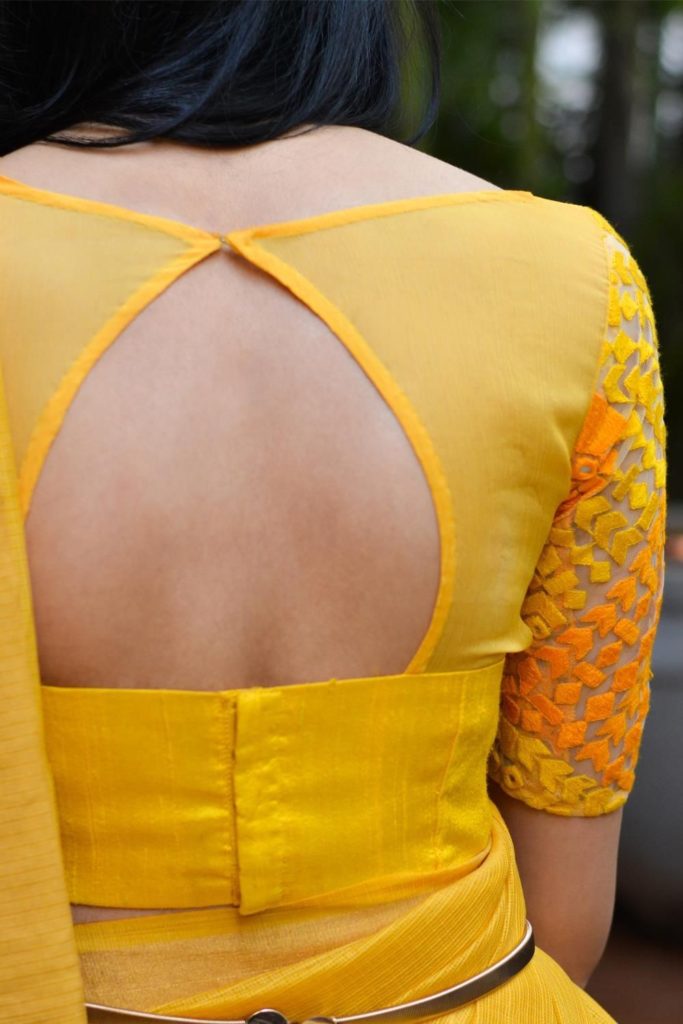 Blouse with jewels at the Back
Take your blouse game on next level, by just adding some jewellery to it. Jewellery with blouse must be added on the back, to set a statement. The jewellery with blouse was an incredible idea and now it might turn into "blouse accessories" .
Tip- the blouses with jewellery won't go with a basic, simple Saree. Pair this blouse with pure silk or an embroidered/lace Saree. These blouses can be worn at traditional festivals and even at parties.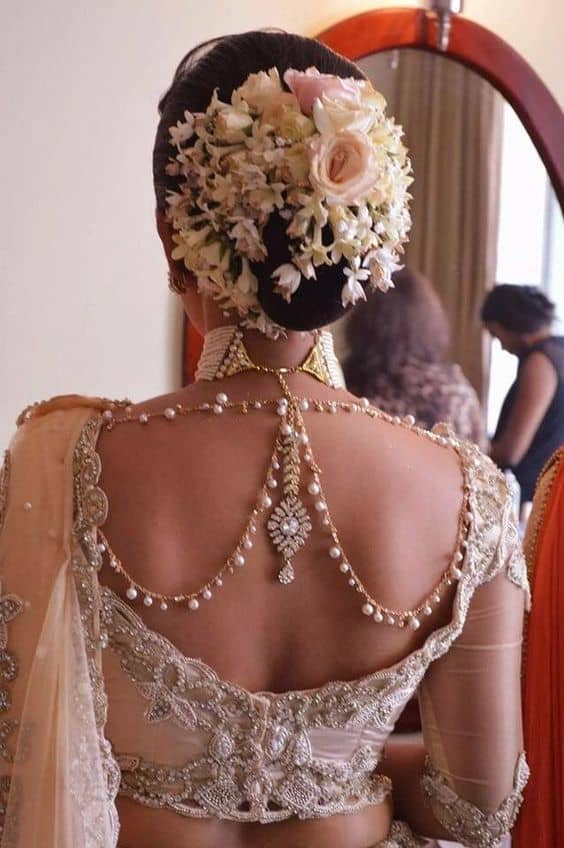 keep it cape! Cape blouses have been running popular from quiet a good time, and are expected to be in trend for future  months too! So get your hands on a cape blouse soon!
Tip- While wearing cape blouse, you can keep the Pallu of your Saree to be thinnest, as to highlight the cape. Always put the Pallu under the cape.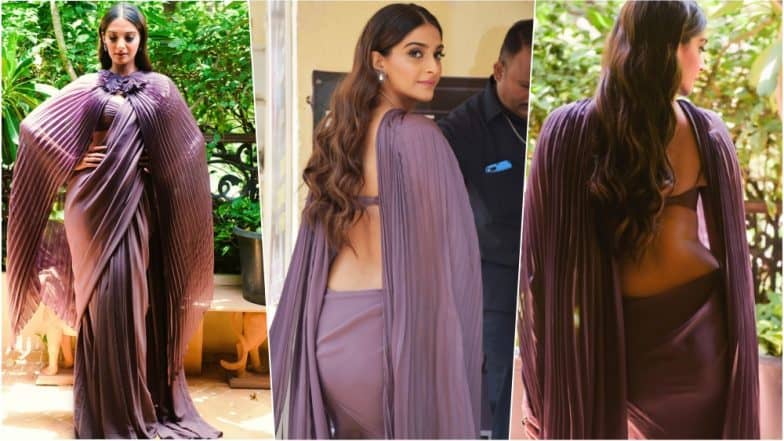 Collar blouse/peter pan collar blouse
The Peterpan collar is nothing but a round collar in a slopy style. It has soft flow instead of rigid edges/corners. People call it a seated round collar as well. It indeed looks cute. This style is more famous for Formal Shirts but let's try something new and try Collar Blouses with Peter Pan Collar with a Saree.
Tip- Peter pan collar blouse works great with printed Sarees. Don't wear any Neckpiece with the with a peter pan collar blouse.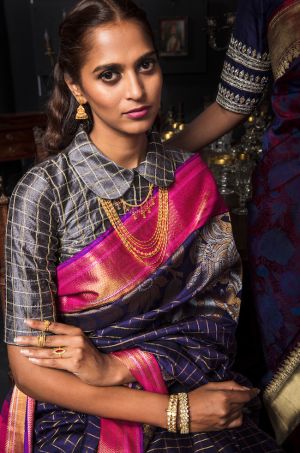 The looped blouse has some rigid rings at the back, to which the the strings of blouse are attached. This is quiet unique style trending this season. Here, try to keep the Saree as light as possible.
Tip- This kind of blouses look extremely sexy. You can wear one with the plain Satin or Chiffon Saree. It is a great choice when you want to wear a Saree at the Pre-wedding party or a cocktail party.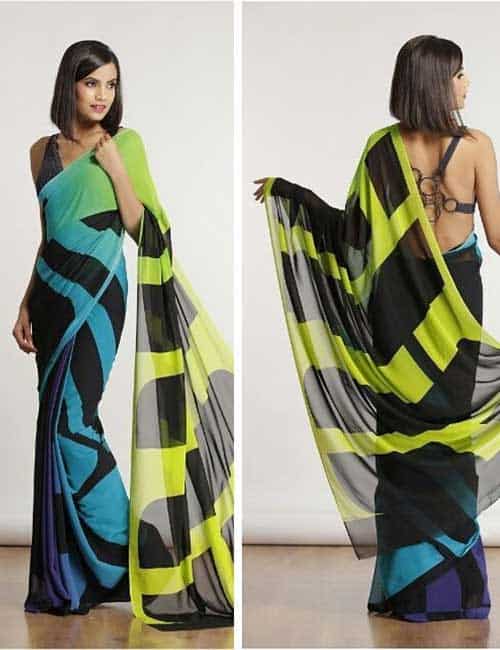 High neck blouses have set their  own ruling statement in recent months. The highneck blouse comes with several styles, as stand-patti, round neck, turtle neck and many more. Even in high neck blouses, you can get designer cutouts at the back.
Tip- the high neck blouses best go with a sheer Saree having a thin border. You can wear high neck blouse to workplace as well as to occasions. Do a high bun when wearing a high neck blouse and keep your makeup subtle.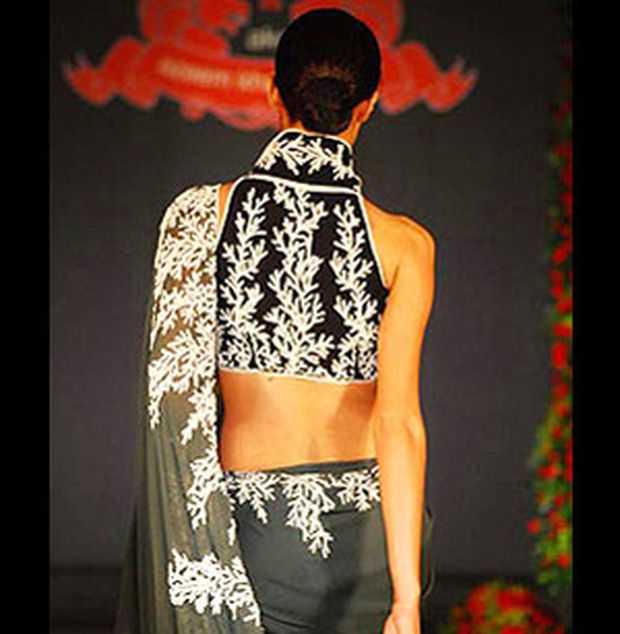 Blouse with Back zardosi work
This blouses are made for really special occasions. The detailed zardosi work is done by hand and with precise perfection. It has richness and heaviness at same time.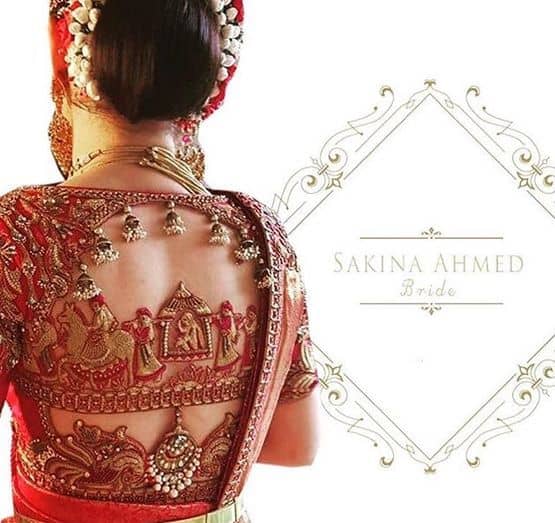 image Source: pinterest
Halter neck blouses have been wining hearts since years! In this style, the fabric around the neck leaving the back open. It gives a semi-backless style.
Tip- With a halter neck blouse, always pick a Saree with an attractive and broad border. The border must match with the colour of blouses.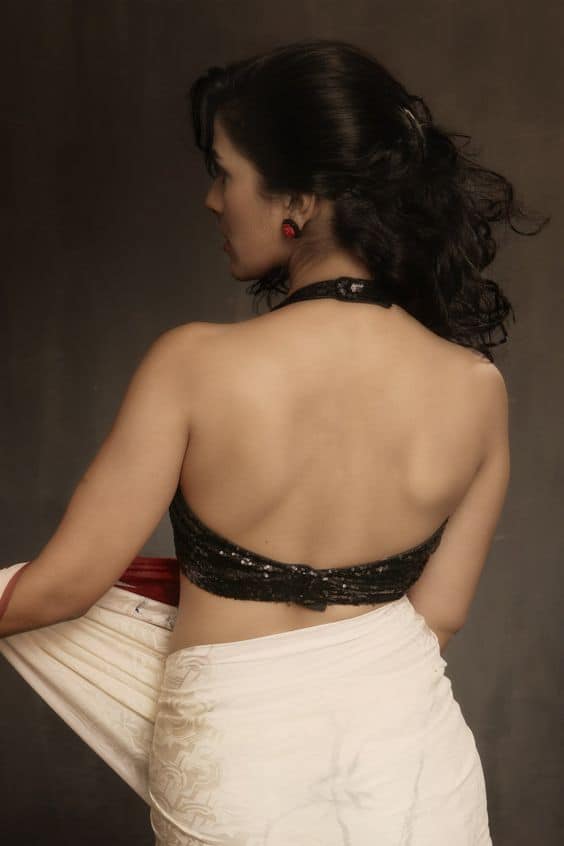 Backless blouse with border
This backless blouse has a border strap at the end leaving the middle big area open. The border can be plain, decorative or knotted. Generally the decorated/plain one looks amazing.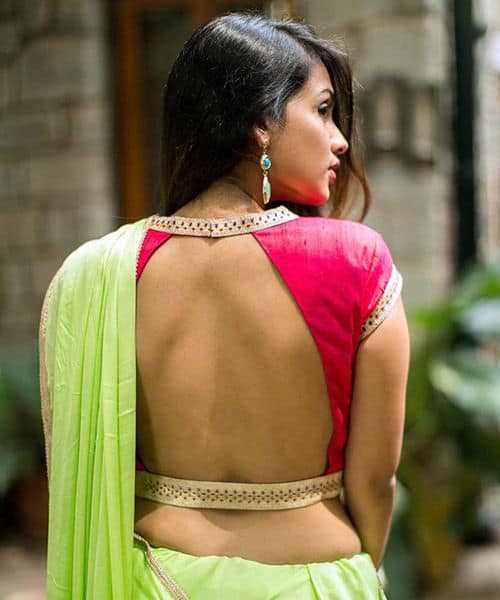 The trendsetter off shoulder blouse
okay, so while everyone on street is wearing basic off the shoulder top, you must flaunt your off-shoulder blouse with a bold coloured saree. team up a classic choker with off-shoulder blouse!
Tip- The off shoulder blouse must have a fit neckline other wise it would go plunging again and again. You must wear an elegant choker Neckpiece with a off shoulder blouse.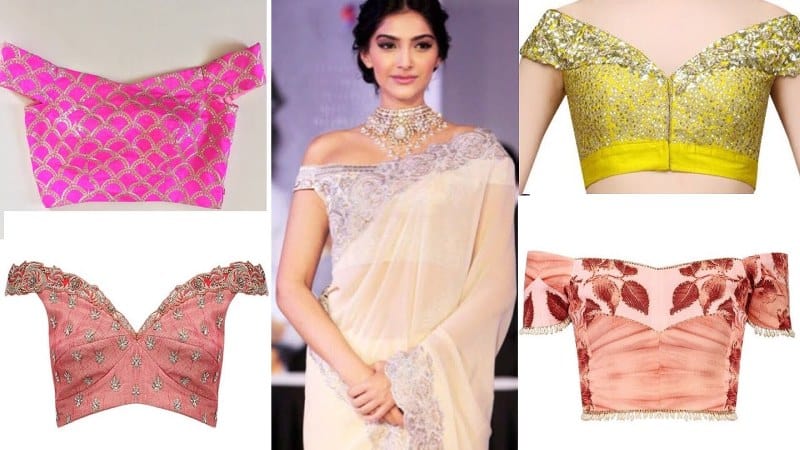 hooof! Too many! I have tried including all the trending and creative blouse back designs which are going to be head truners in the season. Creative blouses with a basic saree never go wrong, and if you don't believe, try it yourslef. ! So, which one did you like the most or which one has great comfort according to you? let us know in the comment section below! Always happy to hear from your side!
We'll be back with another dashing post soon! till then keep clicking the backshots of your saree!
Love You all !!!
HUGS!!!!!!!
If You love this post about Latest Blouse Back Design You will also like to check out Post with Top 30 Best Blouse Designs for This Year