Hi Beauties! I am super happy while announcing Valentine's Day Giveaway on MyFashionVilla. It is a special day in my life too, as I got married on Valentine's Day! 🙂 Yeah.. 14th Fab is my Wedding Anniversary too, and I wanted to celebrate it with all of you, so decided to do this Giveaway! We all girls love Fashion Accessories always right? So with this Giveaway you can Win Ayesha Accessories Gift Vouchers Worth Rs 500! Excited? Then check the rules and Try Your Luck!
About Ayesha Accessories
Ayesha Accessories is one of my favroight brand for fashion accessories. Their stores are present in almost all cities of India and I really love hot and sexy fashion accessories by Ayesha Accessories always. Here is What I got from Ayesha Accessories for me.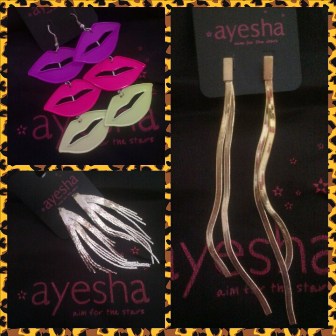 Winners?
There Will be two Winners, Each will get Ayesha Accessories Gift Vouchers Worth Rs 500!
Steps to Participate in Valentine's Day Giveaway
Guidelines, Terms & Conditions
This Giveaway is open to Indian Residents only.
All the entries will be validated thoroughly so make sure to follow all steps listed below.
Make sure you provide your valid email address in comment so that you can be contacted in case you are the winner
Result Will be Out on 24th-Fab-2014
Go On Girls!!
Hugs and Kisses!!