Hey Guys! How are you all? The festive season has already started. Rathyatra and Eid already over now. Next, we have Rakhi coming next month! Are you ready? Well, this is my favorite season, because I get plenty of reasons to dress up and dolled up 😀 So for Rakhi, I am sharing an important resource that I came to know. It is BundleBaaj.com which offers Online Rakhi Hampers. Want to know more? Read ahead.
What BundleBaaj.com says about them?
BundleBaaj is a revolutionary way of sending gifts to India. You can choose the gifts like flowers, cakes, photo gifts and send it across to over 100 cities of India.
We only have one motto: Quality Gifts at Affordable Cost.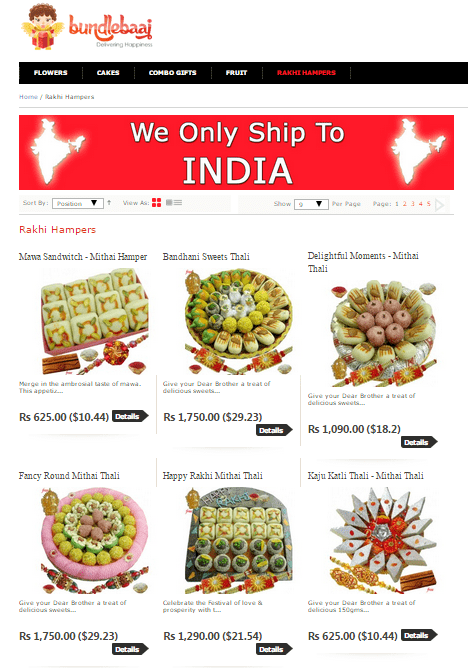 That sounds really promising, right? Well, I know BundleBaaj.com very well. I have heard their reviews from many people and reviews are awesome.
Why Rakhi Online?
Earlier we used to purchase Rakhi for our brother staying in another city. Then we used to pack Rakhi, Kumkum, Rice in an envelope and we used to send it via a courier company. But time has completely changed. To start with Rakhi, to envelope to courier charges, everything is so expensive these days. You must agree with me on this. Let me break down the expenses here:
Rakhi: Quite expensive these days; for a good Rakhi you have to spend minimum 50-100 Rs.
Envelope: 5 Rs -10 Rs depending upon design, decoration on envelope and from where you buy.
Currier Charges: 120-200 Rs.
So with this calculation, overall you are spending 200-400 Rs for the Rakhi. And here I have not calculated the time that we spend to do all these. Let's see that as well.
As we all are getting busy these days. I guess most of us (including me and you reading this) work these days, be it job or business, then it becomes really tough to take out time to go market to buy Rakhi, buy envelopes, packing Pooja related things, packing everything together and then sending envelope through courier.
And the important thing to note is; here we are not sending any gift or sweet along with Rakhi to our brother and still we are spending Rs 200-400 Rs. That's a costly affair isn't it?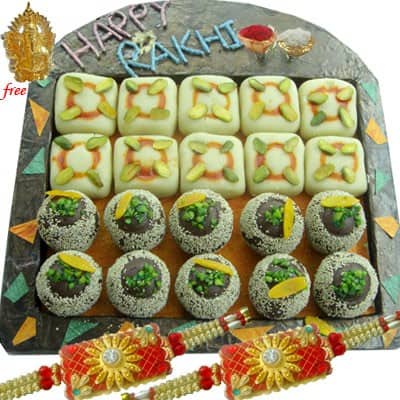 Now what if I say; Everything you can do in 5 minutes and along with box of sweet & Pooja Thali & you can do it around 600 RS!!! Starting with 600 Rs there are rakhi hampers of Rs 2000 on BundleBaaj.com Yeah, A Rakhi Hamper from BundleBaaj.com will include:
· Pooja Thali With Diya
· Kumkum
· Rice
· Two beautiful Rakhis
· "Happy Raksha Bandhan" chocolate bar
· Kaju Katli Sweet
All for Rs 626. Including Shipping Charges! Check how hamper will look like: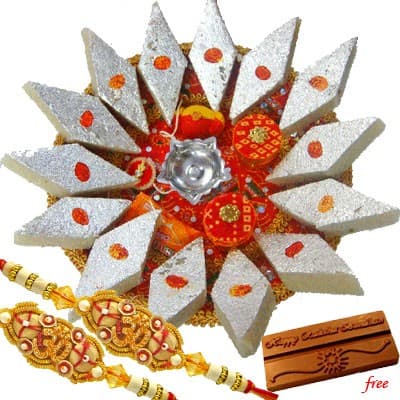 And the Best Part is
Along with domestic orders, BundleBaaj.com takes international orders as well. If you are somewhere outside India, you can send Rakhi Hamper in India with BundleBaaj.com
How to Send Rakhi Online:
1. Visit BundleBaaj.com
2. Go through their Rakhi Hampers Here
3. Select The Hamper You Like the post
4. Add it to your cart, Fill Address Details of Your Brother
5. Pay online
And Voila!! You are done.
Final Words: I have calculated the amount that I spent when I send Rakhi through our traditional method. These days it is expensive and very time consuming. I found BundleBaaj.com is a great option with affordable Rakhi Hampers and quick delivery options. A must try Portal for sure.
And They have pretty good hampers and gift articles for every occasion. You can check their website to know more.
So that was today's post. Hope You Liked it and use BundleBaaj this rakhi 🙂
Lots of Love
xoxo