So Far half of Day 3 has past at Lakme Fashion Week Summer Resort 2012, but still 2 and a half day is remaining and still many designers are waiting to showcase their collection at Lakme Fashion Week 2012. Today so far Purvi Doshi, Sashikant, Naidu, Vaishali S, Debarun, Farah & Firdos, Paromita Banerjee, Soumitra have shown their collection on ramp today. While I am writing this post, audience is waiting for Deepika Govind to Come up Next.
Here is the complete Schedule of Lakme Fashion Week Summer Resort 2012 Fashion Show Schedule & Information.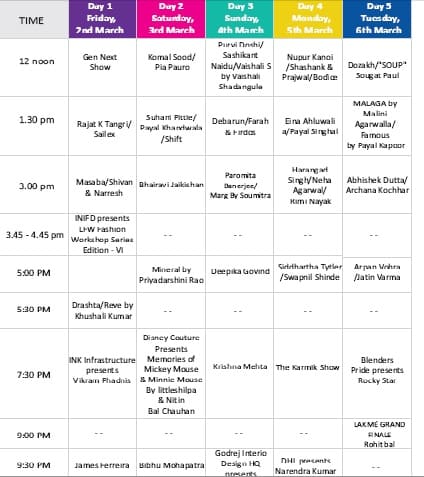 Above picture is taken from http://lakmefashionweek.co.in. Thank You.
We are extremely sorry if image is not clearly visible, but you can check fashion show schedule online to at: LFW Schedule 2012
Also if you can't go there personally, you can watch whole event for 5 days online too. You need to turn on LFW TV. Watch Lakme Fashion Week Summer Resort 2012 online here: LFW TV
Hope this post may help you 🙂
We will shortly come up who some interesting post for all of you covering Lakme Fashion Week summer 2012. Till then..
Stay Healthy & Be Stylish..
Always 😉