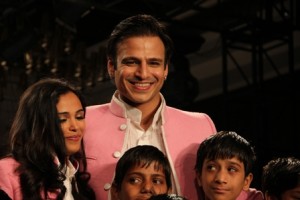 It was Day 1 at Rajasthan Fashion Week, the excitement was on top and we saw excellent line of male collection on ramp by designer Kirti Rathore. I was amazed by collection as it was exclusive Men's collection on ramp! As we all know that in India there are a few female designers only, who designs for male, Kirti Rathore is one of such designers from Jaipur India. Vivek Oberoi was show stopper at Kirti's show at RFW.
I got an opportunity to talk with Kirti Rathore about her collection at Rajasthan Fashion Week and her whole idea about range of outfits she designs. Here is my conversation with her and of course her collection on the ramp. Enjoy! 😀
Q: Please tell us about your collection called "United Colors of Life" at Rajasthan Fashion week.
Kirti Rathore: I dedicated whole show to the memories of Mr. Dev Anand who pioneered the use of Happy colors on screen and celebrated colors and life itself. To make the complete rainbow, we had children from the institution named 'Rays' who are special children, fighting for their life.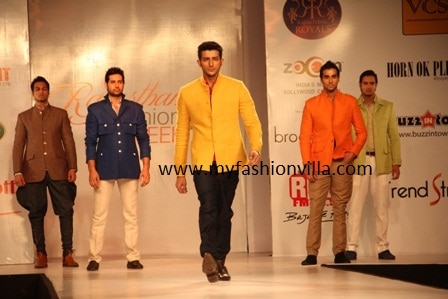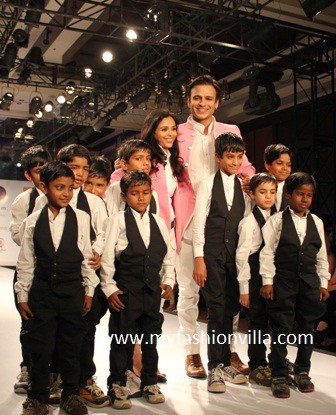 Q: Vivek Oberoi walked for your show, how you feeling about it.
Kirti Rathore: Vivek Oberoi walked the ramp with special children as a show stopper; I am feeling grateful and honored to have Vivek Oberoi as a Show stopper. He is well cultured and down to earth which shows his upbringing. The way he was there on ramp with Kids, thoroughly enjoying made me happy 🙂
Q: What is the idea behind bringing special children from the Organization call Rays?
Kirti Rathore: I believe in giving back to the society always. There are so many children in the whole world suffering from some serious diseases, if we can take stand for them, there will be big big difference in their life surely.
Q: What inspires you for your designs and collection always?
Kirti Rathore: Inspiration can be taken from anything around you, this time I took inspiration from colors and colors always remind me Mr. Dev Anand saab.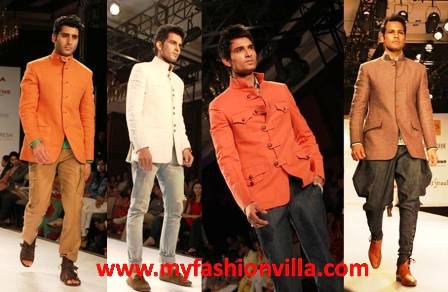 Q: Tell us about Your collection at Rajasthan Fashion Week
Kirti Rathore: The collection is called "The United Colors of Life" Fabric used is mostly linen and as it is said "Linen is God's own creation" which is cool in summer and warm in winter. It is always classy to look and feel.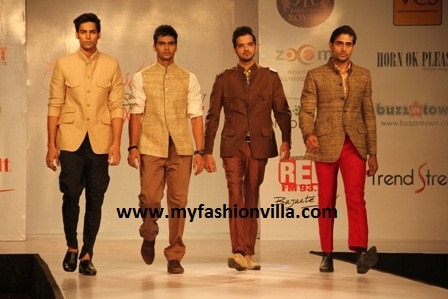 Q: You are a super talented lady and you design for Men only, why so?
Kirti Rathore: As everyone knows, I am a male apparel designer, and truly saying, I have been criticized so many times for being a male apparel designer only being female, but I don't care about that much, my collection speaks my work. She smiles 🙂
This was my interview with her; I am feeling the same; what Kirti felt for Vivek Oberoy, grateful and humbled. The best thing about Kirti Rathore is, she is self made designer and very open down to earth lady. We truly appreciate her feelings about giving back to society. Thank You Kirti Rathore from team Myfashionvilla.com. We wish you very best of luck for your journey ahead. We would love to see you as one of the biggest designers of India. 🙂
Stay up for more updates and posts from Rajasthan Fashion Week on Myfashionvilla.com
Till then..
Keep Stylish and Be Healthy…. Always 🙂
Love XoXo…