The Biggest fashion extravaganza started today at Pragati Maidan New Delhi, Yeas I am talking about Wills Lifestyle India Fashion Week Spring Summer 2014. There were 10 Designers showcased their #SS14 Collection today at WIFW divided in 6 shows.  My favorites of today were Masaba, Anupama Dayal, NAchiket Barve, Nida Mahmood and Malini Ramani. Let me show you some of my favorite pieces and what I love about each collection and Designers:
 

SCHEDULE

 Day 1, Wednesday – October 9, 2013
3:15 PM        
Opening Show by Anupamaa by Anupama Dayal and Masaba
4:30 PM
Annaikka by Kanika Saluja and Urvashi Kaur
5:45 PM
Nachiket Barve and Nida Mahmood
7:00 PM
Geisha Designs by Paras & Shalini 
8:15 PM
Special Show
9:30 PM
Gauri & Nainika Malini Ramani
Anupamaa By Anupama Dayal: The collection called "'Gulabi' by Anupama Dayal shows her free Sprit imagination for young women who loves to travel like a Free Bird. The Colorful flowey dresses were perfect to be part of spring summer collection 2013.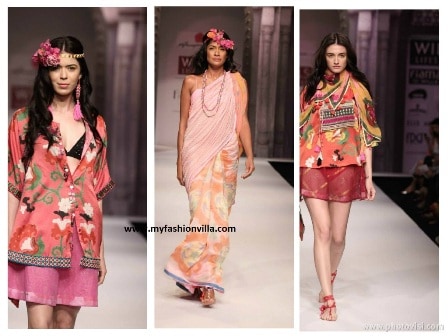 Masaba Gupta : I personally love her collection always, especially the way she experiments with Prints. This time too, she played cleverly with Prints. Actress Alia Bhatt was show stopper for designer Masada today.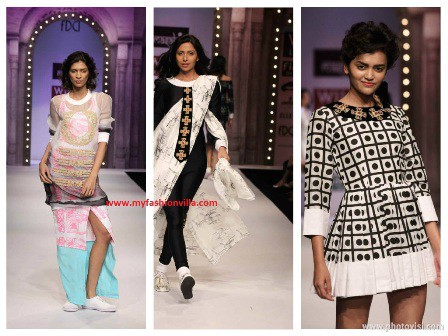 Urvashi Kaur : Honestly I saw her collection for the first time, and I really like it today. The use of fabric and the cuts were so wearable and unique. I like her collection with simplicity & Elegance.
Nachiket Barve: For me his collection is always classy. I like his taste for fabrics a lot; he used Chanderi, Silk, Raw silk, crepe etc in his collection today.  The best part of Nachiket Barve's collection is; his designs are always made while keeping female body in mind.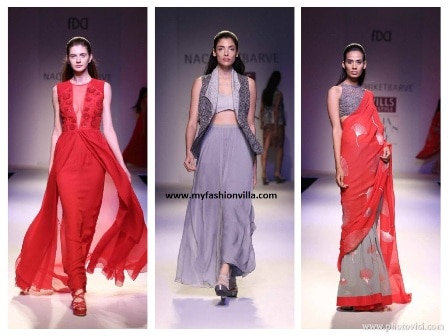 Nida Mahmood: I think she loves bollywood a lot! Most of times I have seen her collection has influence of bollywood prints, characters and colors. I love her collection a lot because it is always colorful, young, refreshing and very chic.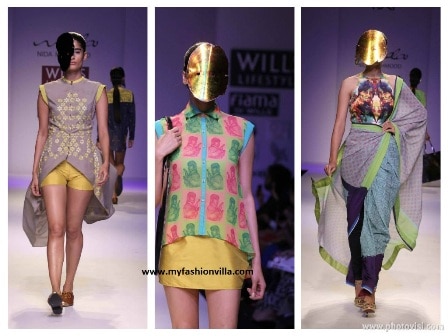 Gauri & Nainika : Fabulous Summer Collection I must say! They used Stripes and Bright colors so well. The Black & White Swimdress, Outhouse Jwellery pieces, Black Saree with NEON Stripes!! Uber Sexy!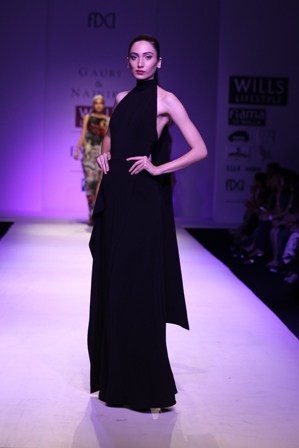 Malini Ramani : According to me, This was her best Season, Literally! She nailed it!!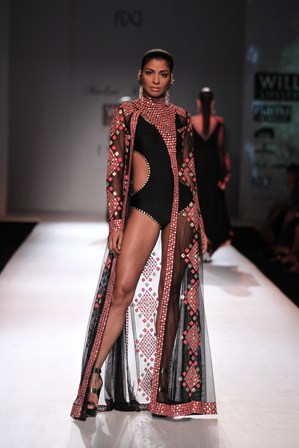 So that was from Day 1 at Wills Lifestyle India Fashion Week Spring summer 2014.
For more pictures, Visit http://facebook.com/myfashionvilla That is our Facebook Fanpage.
Love…