Deepika Govind is personally my Favorite Designer as I find her collection refreshing, innovative and well conceptualize always. Once again Deepika Govind is coming with such an amazing theme for upcoming Lakme Fashion Week Season Winter Festive 2012 – 2013. This Time Deepika Govind is going to present "Pop Patola" at LFW. This is Great initiative by her, which will bring Patola from Gujarat to Next Level.
Here you can see what Deepika Govind is going to present in her collection at Lakme.
What is Behind the Theme "Pop Patola"?
The Designer Deepika Govind Explains: "it is a tribute the extraordinary weaving tradition of the PATOLA from Patan, Gujarat albeit with a tongue-in-cheek pop art interpretation"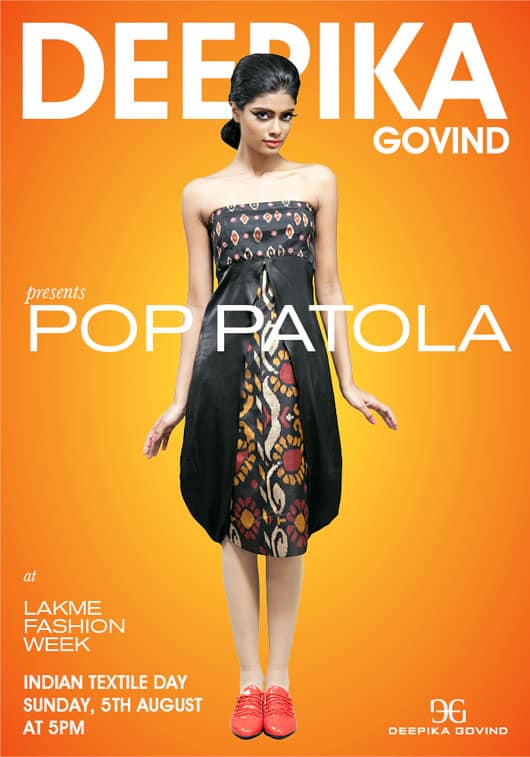 Morover She stated, "It is my continued passion to promote our traditional hand-woven textile that inspires me every season"
About PATOLA:
Patola is the ancient art of double ikat weaving Originated from Patan, Gujarat.
About Designer Deepika Govind:
Deepika Govind is one of the premier fashion designers in the country, Deepika Govind is known primarily for her innovation in all collection.
We must say to Deepika that we Love the way you took stand to promote Indian Traditional Fabrics by Your Innovations, We wish you a Big Success for your upcoming show at Lakme Fashion Week Winter Festive 2012 2013.
Many more Designer and their Collection introduction is in Line for all of you, We are going to share that very soon, keep visiting and inspiring is 🙂
Till then..
xoxo 🙂