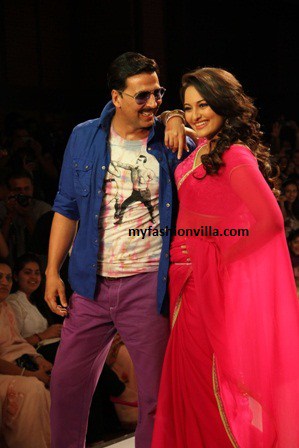 It was Day 3 at Rajasthan Fashion Week, and everyone was waiting eagerly to see some special guest are arriving at Rajasthan Fashion Week, they were non other but Akshay Kumar & Sonakshi Sinha. They came to promote their upcoming movie Rowdy Rathore releasing on 1st June, Directed by Prabhu Deva. It is going to be Action Drama Movie in which Akshay Kumar & Sonakshi Sinha are playing lead roles. At their Visit we got chance to interact with them.
Akshay & Sonakshi answered questions beautifully. Enjoy Pictures and Answers.. 🙂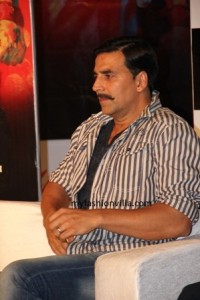 When Someone Asked Akshay, What makes Man a Man? He responded with smile saying, A Man who is a good husband, a good father and a good brother is a True Man.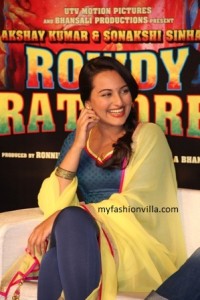 Sonakshi gave beautiful answer while asked about Saree coming back in fashion; She said saree can never be out of fashion. It is the only outfit which can be wearing by any lady; can cover your body beautifully and gives beautiful look to women no matter if you are fat, slim, tall, short…anybody… !! later she added, "Yes, for some time it was downgraded but now it is coming up with full on bang"
Akshay was asked a tricky question and he answered it very smartly, question was about Movies get copied from south, he said, Why we care too much about copies done inter states! It is whole one country India.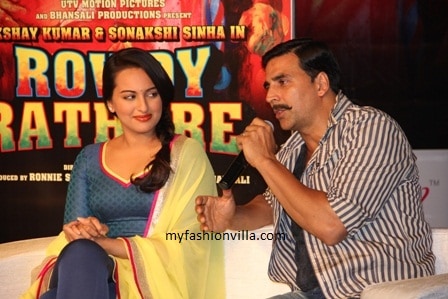 Someone asked to Sonakshi about her experience working with a Akshay in terms of big Age difference between them, she said, there is nothing like that, one should not think about it much! After all their chemistry looks awesome on screen, we saw that in promos of Rowdy Rathore, isn't it? Akshay Kumar answered the same question in his own style, he said, "I believe Age is just a number, even today I can run better than a person of an Age 22" with that I heard so many whistles and claps from whole Media community present there.
There was special Rowdy Rathore Collection launched at Rajasthan Fashion Week, Truly Rowdy Type 😉 Have a Look..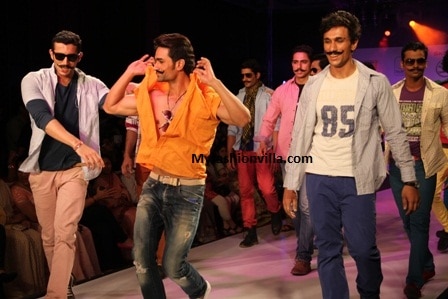 Akshay Kumar and Sonakshi Sinha Walked on Ramp for Rowdy Rathore Collection at Rajasthan Fashion Week. Akshay showed some cool steps on Ramp, in his own stye.. 😀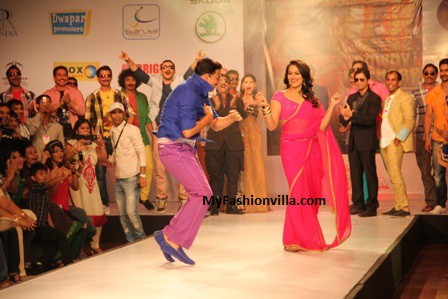 Hope you lovely people Enjoyed this Post.
For more pictures please Visit and Like our page at: Facebook.com/myfashionvilla
Keep Visiting us.. 🙂
Love.. 🙂 XoXo..